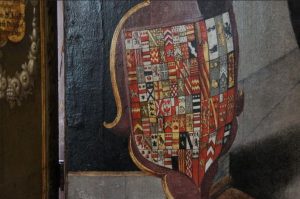 Heraldry is about showing people who you are. It was immediately recognisable to our ancestors, identifying knights in battle or jousting in tournaments. Emblazoned on shields and helmets and later incorporated in monuments and buildings, heraldry was an outward display of family pedigree and social status.
St. Mary's Lydiard Tregoze is jam packed with heraldry. It is painted on family memorials to the St. John family who owned Lydiard Park for over five hundred years, carved on their monuments and brilliantly illuminated in stained glass. The magnificent St. John family polyptych is a tour de force; its huge doors displaying genealogical panels drawn up by the leading herald of the early 17th Century, Sir Richard St. George – Clarenceaux King of Arms.
Using examples from St. Mary's Lydiard Tregoze and other Wiltshire churches, Stephen will explain this coded language and describe its purpose up to the present day. Stephen has written extensively on heraldry including his popular 'The Complete Book of Heraldry'. He is a former Chairman of the City of Bath Heraldic Society, the oldest of its kind in England and has recorded heraldry in over two hundred churches in Wiltshire.
This talk is organised by The Friends of Lydiard Park as part of the St .Mary's Church Conservation Project.