This exhibition has now closed
'Angels, Buckets and Bells' is an exhibition based around the work of two Artists in Residence, Felicity Cormack and Judy Thomson who have been drawing and painting the St. Mary's Conservation Project and life of the church during the course of 2019. From scaffold to bell ringers, buckets to christenings, a wonderful range of their drawings and striking artwork will be on display alongside treasures from the church.
Felicity Cormack completed a B.A in Fine Art (painting) at Cheltenham College of Art in 1995. After several years focusing on drawings and woodcuts she returned to study at Oxford Brookes in
Swindon, to complete an MA in Drawing for Fine Art Practice in 2015.
Felicity says:
"I was very pleased to be invited to work at Lydiard Tregoze church and I focused on recording the figures working and worshipping there over the summer of 2019. I started off with the conservation volunteers in action as they emerged from their conservation work in the church with bucket after bucket of water. Inside the church I was moved by the loving atmosphere of the services and particularly the baptisms and fantastically skilled bell -ringers. The intimate spaces inside the church created by the scaffolding lent themselves to some dark charcoal scenes."
Felicity devoted her early ears to the violin and was not allowed to take both music and art at school. It was not until she had earned her living as a musician for many years, teaching and playing the violin, that she was able to take a year off to pursue her interest in art. She continues to make both music and art.
Judy Thomson completed the BA (Hons) Drawing for Fine Art Practice degree at Swindon College in 2005, and returned to complete an MA Drawing for Fine Art Practice in 2014.
Judy says:
"I returned to the college to develop and expand my practice so that it would incorporate an interest in the past that I have nurtured for many years whilst an Assistant Leader of the local branch of the Young Archaeologists Club.
I have seen this residency as an opportunity to combine my drawing practice with my interest and love for old buildings. I've been very interested in the uneven headstones and tombs; the windows, looking in and out and the evidence of incremental change over time as the building has aged. The notion of the palimpsest and its overlaid stories is very interesting to me both physically and conceptually and I've also found the changing qualities of light in the place inspirational."
Church Treasures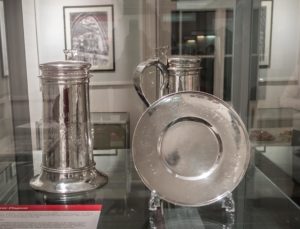 Historic objects removed from the building for safekeeping during the conservation project and displayed in Swindon Museum include three 17th Century knight's helmets which belonged to members of the St. John family of Lydiard Park. This is also a very rare chance to see the church's 17th Century communion plate, including two great inscribed silver flagons donated to St. Mary's Lydiard Tregoze by the daughters of Sir Charles Pleydell of Midgehall in the 1670's.