Entry:  FREE drop-in event as part of Heritage Open Days 2023.   Supported by The Friends of Lydiard Park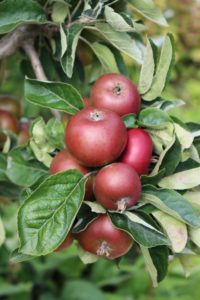 Bags of heritage apples will be on sale in the garden pop-up shop as well as Lydiard's exclusive cider and culinary treats from Victorian apple cake to tarts and toffee apples.
Activities will include apple skittles, discovery trails and face painting.
The beautiful walled garden at Lydiard Park is opening its gates for Heritage Open Days 2023 with a celebration of its heritage apple collection.  All the varieties existed before the 1740's and were planted on dwarf rootstock in Lydiard's restored walled garden in 2006/7.
Trained into goblet shapes by Andy and his small and dedicated team of gardeners, the trees are thriving and 2023 is set to be a bumper harvest.
Apples are not the only fruit in the ornamental Walled Garden.  You will find trained pear, greengage, peach, plum, cherry, apricot and fig trees alongside many historic and homegrown flowering plants.  The Lydiard Park gardening team uses traditional, organic methods to tend and maintain the plants and the garden is a haven for wildlife, attracting butterflies and bees.