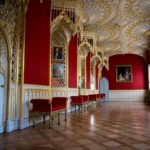 This spectacular Gothic Revival villa, built by Horace Walpole from 1749 onward, features towers and battlements outside and elaborate decoration inside. Walpole never expected it to last much after his death, due to the materials used; lath and plaster walls and detailed ceilings made from papier mache. The house has undergone a massive restoration in recent times and there is a small closet dedicated to 18th century society artist Diana Beauclerk, formerly Di Spencer, Lady of the Manor at Lydiard.
Members have the opportunity to visit Strawberry Hill's lovely gardens in the morning, followed by lunch (either your own picnic lunch or a pre-booked cooked lunch) and a private tour of the grand rooms. A cream tea (optional) rounds off the day. Transport is provided by coach, departing Lydiard Park at 10 am and leaving Strawberry Hill at 5pm. All Covid restrictions will be taken into account.
Contact [email protected] for further details or see the invitation letter in the members' area of the website
The summer outing is always fun and we learn things too! If you are not already a member, this would be a nice way to start.