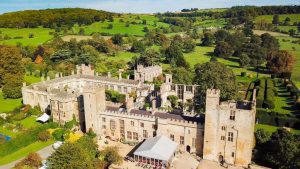 As usual we aim to visit properties that have a historic connection with Lydiard Park. The link with Sudeley Castle dates back to the times of William the Conqueror when Harold, son of Ralph, Early of Hereford (wonderfully known as Ralph the Timid), held Sudeley for the King. Harold later acquired Ewias on the Welsh borders, and Lydiard where he endowed the church. In some early records Lydiard is even called Lydiard Ewias. There are also some fascinating 15th century connections between Sudeley and Lydiard arising out of the defeat and death of Richard 111!
The coach will collect us from Lydiard Park, Hook Street entrance at 9.15 a.m. and we anticipate arriving around 10.30 a.m.  At 10.45 a.m. we will have tea/coffee in the Pavilion of the Terrace Cafe followed by a private talk entitled 'History of Sudeley'.  This should finish around 11.30 a.m.  You are then free to explore until lunch.
At 12.30 p.m. we will have lunch as a private group in the Orangery.  Please choose which roll filling you would like (listed on the invitation letter).  These will come with crisps and tea/coffee.  the Pavilion Cafe will be open for you to indulge in a selection of cakes nad hot drinks during the afternoon if you so wish (at your own expense!)  You may also bring your own packed lunch if you don't wish to join us in the Orangery.
The afternoon is yours to explore the Castle and grounds at your leisure.  The 15th Century west wing houses a fascinating exhibition 'Royal Sudeley 1,000 Trials, Triumphs and Treasures'. The east wing has several stunning rooms.  There are ten magnificent gardens to explore, each with its own unique style and design.  Visitors can also explore the beautifully restored C15th St. Mary's Church where Katherine Parr now lies entombed.
We plan to leave Sudeley Castle at 4.00 p.m.