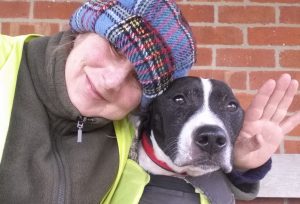 Kate Griffin, her family and a very special pony called Sidney became familiar faces at Lydiard Park during the 1980's, bringing fun to hundreds of visitors as well as a heart stopping moment.  Kate, a Design Technology teacher at St John's Marlborough, tells us her Lydiard story:
Early Days
'Coming to Swindon in the 1980s was unexpected. As many people have, I came with work and have stayed. I was a rep for Wander Foods Limited selling Ovaltine and needed to be near the M4. I didn't really know Swindon all that well as I was away all week and I still didn't know Swindon much until I had my children. I hadn't been to Lydiard Park either but when I look back over the years since and especially now, under the current expectations about social distancing, it has been of huge benefit to my family and friends.
So, in 1987/88 I found myself in West Swindon with two young children, my husband, my mother Margaret Woollatt, who soon became a member of the Friends, two Jack Russell terriers and one Shetland Pony – Sidney. This was all brilliant but I soon tired of lead rein sessions and decided that it would be altogether better if Sidney became really useful and pulled a carriage as I didn't have a car.
Sidney was living at Lower Shaw Farm and with some help from the people at the farm, a few books, good friends Laura and Linda and a very small and plucky young lad called Douglas, Sidney was soon pulling a pallet up and down Lower Shaw Lane. I discovered a carriage maker in a magazine and phoned Kent to order one. The carriage duly arrived in the back of a white van, in a cardboard box and I eagerly unpacked it. With instructions, spanners and screwdrivers and after several cups of tea, I had a Shetland Pony vehicle of my very own.
Wheels at last!
How does Sydney and his carriage link me to Lydiard Park then? Well you have to remember that Nine Elms and Shaw were just being developed at the end of the 1980s and the roads weren't really open. There were some good footpaths and a bridleway but mostly it was building sites. The children and I had been to Lydiard Park but not very much as it was hard work with a push chair. When I got the lovely Sydney safely into his carriage it changed things – brilliant!  I headed out from Lower Shaw Farm with the children and a picnic, up some footpaths, over Shaw Ridge until I found myself at the entrance to Lydiard Park.
The park was fairly informal in those days and Health and Safety wasn't so much on people's minds. Having got to the gates, I simply drove Sidney down into the Park up to the church – why not?  We trotted around the tracks through the woods, over the bridges and along the path parallel with the Ha-ha. When we reached the Play Area and the Visitors Centre, we parked up. The Head Ranger, Ivan, was really helpful and happily let me leave Sidney with his hay net behind the centre while the children played. We did this a lot, much to the pleasure of the many visitors to the Park. There was lots of camera clicking and even several video films. My children can't remember the carriage driving particularly but they do recall the fitness circuit and the overhead rope swing and the sand and of course the ice-creams!
Word soon got around that my pony and I would turn up at local fundraisers and give pony rides with or without the carriage. Throughout the summer months we would help at various events held in the unrestored Kitchen Garden – the NCT summer fete, the church fete, Victorian days, I can't remember them all.
My life flashed before me
Amazingly without a hitch, my beloved Sydney took to this carriage driving and we never looked back and being fairly ambitious I felt it was time to take him to a show to make his public debut. So, one sunny summer afternoon we arrived at the Wootton Bassett Lions Show in the Lydiard Park Events field. Resplendent in Scottish bonnet and Tartan driving apron, washed and brushed and polished, we entered the ring with several other local carriage drivers. Sydney always liked a party and willingly showed off his best paces. As we rounded the corner on our third circuit, a steam engine whistled and puffed. Sydney needed no encouragement, we were off!!!  He did several galloping turns of the show ring past the other very superior and much taller turnouts at full pelt with me in true charioteer style, standing up hauling on the reins!!! My life flashed before me, I wasn't able to stop him – HELP! The crowd cheered and waved, I could see my farrier jumping up and down, shouting. This was real good sport and much more entertaining than vintage tractors he told me later! How we stopped I will never know but we did. My humble thanks must go to the various knowledgeable and brave locals who rescued me by gripping parts of the now panting Sydney. Interestingly one of those locals was Roger Jacobs a British Driving Society judge. Roger was a professional gardener and was seconded to the Lydiard Park restoration project by BMW in 2004 and stayed on to become Head Gardener.
A Bittersweet Occasion
My last memory of driving in the park was a more bittersweet occasion. My ponies had been hired to take a bride to Lydiard Tregoze church and then on into Swindon. Weddings are always happy, friendly events, so we were looking forward to helping the bride enjoy her special day. At 5am in the morning I was down the yard glamming up the ponies and checking over carriage and harness. My groom and I drove down from Lydiard Millicent into West Swindon with no traffic to hold us up, made good time and collected the bride. The park was beautiful, the bride was beautiful, my ponies were so well behaved, but it was into a strangely peaceful Lydiard Park that we drove. The date that had been booked was 6th September 1997, the day of Princess Diana's funeral.
Sydney was the first of several driving ponies and cobs I have had over the years. Sidney and I spent many happy years driving together and teaching others the art of carriage driving, often in Lydiard Park. Eventually he headed off to Gloucestershire for a happy retirement with an older lady. He had by then calmed down..!
Who wouldn't want to support this?
I joined the friends of Lydiard Park because I truly believe we need Lydiard Park maintained as it currently is, sympathetically restored and open to all, not commercially exploited to provide profit. The current situation just shows how important it is for the local community. Who wouldn't want to support this?
As I walk with my dog Ruby during these strange times we are in now, 30 years have gone in a flash. We walk around the lost lake, across the park and down the real entrance into the Lydiard Estate, the Lime Avenue from the house. I wonder just how many carriages have driven there before me, none as small and naughty as Sidney I don't suppose!
And yes it's that same Scottish bonnet!'