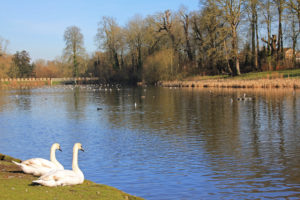 Each season at the park brings its own delights. In the winter it may seem as though the park is sleeping but there is still plenty to see, including the famous Lydiard display of snowdrops (Galanthus) and the yellow flowers of the lesser celandine. Spring sees the blossom and bulbs; meanwhile the blackbirds and thrushes are claiming their territories and the grey squirrels indulge in their courtship chases! High summer is a particularly busy time in the glorious walled garden whilst autumn is vivid with berries and the leaves turning bronze and gold.
The park has a great wildlife diversity: Amongst a range of reptile and amphibian species there are newts, grass snake, common lizard, toads and frogs. Mammals that inhabit the park include foxes, badgers and deer whilst the lakes provide habitat for a variety of water fowl such as coot, moorhen, great crested grebe, tufted duck, mallard duck, Canada geese, little grebe, common tern, herring gulls and swans.
There are many other bird species in the woods including nuthatches, tree creepers, thrush and pied wagtails. You may hear the loud tap of the great spotted woodpecker and at dawn and dusk the call of the tawny owl. Whenever you visit, there is so much to explore.
World Environment Day
June 5th is World Environment Day. It is a time for us to appreciate the environment we live in and to protect our natural surroundings. It's all about the many ways in which we interact with our environment. As the World Environment Day statement says: "Outside of our homes is the actual home we all live in and preserving it for future generations is more crucial than ever."
Here in Swindon we are fortunate to have some wonderful parks and open spaces of which Lydiard Park is just one. Places like Lydiard give us space to relax and unwind, to explore, to play and to enjoy events and activities. World Environment Day helps us to reconnect with nature. Sometimes we can forget how much natural systems support our wellbeing, but we are a part of nature and we depend upon it.
So why not make the most of World Environment Day – and the summer month of June – by going out and enjoying Lydiard Park. There are 260 acres of historic landscape with lawns, woodlands, pastures and the lakes to explore. There are ancient trees, a walled garden, wildlife, plants and insects.
June is the month of the longest day and the summer solstice. Butterflies and moths are on the wing, bats are out in the dusk, adults birds are collecting food for fledglings. Look out for green shield bugs and different types of ladybird we have in the UK (there are 26!) Have a wonderful time wildlife-spotting!