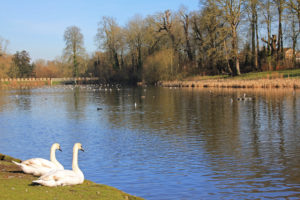 Each season at the park brings its own delights. In the winter it may seem as though the park is sleeping but there is still plenty to see, including the famous Lydiard display of snowdrops (Galanthus) and the yellow flowers of the lesser celandine. Spring sees the blossom and bulbs; meanwhile the blackbirds and thrushes are claiming their territories and the grey squirrels indulge in their courtship chases! High summer is a particularly busy time in the glorious walled garden whilst autumn is vivid with berries and the leaves turning bronze and gold.
The park has a great wildlife diversity: Amongst a range of reptile and amphibian species there are newts, grass snake, common lizard, toads and frogs. Mammals that inhabit the park include foxes, badgers and deer whilst the lakes provide habitat for a variety of water fowl such as coot, moorhen, great crested grebe, tufted duck, mallard duck, Canada geese, little grebe, common tern, herring gulls and swans.
There are many other bird species in the woods including nuthatches, tree creepers, thrush and pied wagtails. You may hear the loud tap of the great spotted woodpecker and at dawn and dusk the call of the tawny owl. Whenever you visit, there is so much to explore.
Thirty Days Wild!
There's no better time to get out and about and enjoy nature than in June when the days are at their longest (the Summer Solstice is on 21st June and Midsummer Day on the 24th.) Amongst the wildlife on view this month are deer, and if you are lucky, badgers, whose cubs emerge at dusk to play!
Flowers reach the peak of glory too, with foxgloves, ox-eye daisies, roses and honeysuckle amongst the plants that grow wild. Look out for the butterflies and moths of summer as well; the Marsh Fritillary is out and about alongside the more common Peacocks and Tortoiseshells, and in the evening the hawk moths will be out.
Throughout the month of June, UK Wildlife Trusts are running their annual nature challenge, 30 Days Wild, where they encourage everyone to do one wild thing a day. That's 30 simple, fun and exciting Random Acts of Wildness. Wildlife activities can be anything you like, from listening to the dawn chorus, to finding insects and mini-beasts, identifying wildflowers to creating a pond! Wiltshire Wildlife Trust is organising events but you can also download a pack for you and your family, and there's also an app. And where better to go wild in nature than the expanse of Lydiard Park with its lake, meadows and parkland? There's lots of space and so much to see and do in June.