"Beside the lake, beneath the trees, Fluttering and dancing in the breeze."
From "Daffodils" by William Wordsworth.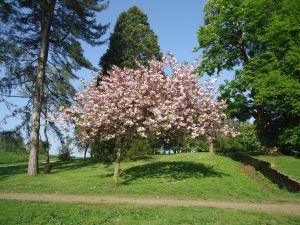 William Wordsworth, who wrote his famous poem on daffodils in 1804, was inspired by a walk that he and his sister Dorothy took on 15th April 1802 at Ullswater in the Lake District. The native daffodil there is the "narcissus pseudonarcissus" which has pale yellow petals and a darker yellow central trumpet. At Lydiard Park we also have a wealth of beautiful daffodils and as 2020 is the 250th anniversary of Wordsworth's birth, it's a glorious opportunity to see them in their golden splendour and celebrate his poetry.
Elsewhere in the park, April also sees the spring awakening of other flowers, birds and animals. Hawthorn and blackthorn spring into flower with their white blossom and you can see the occasional cherry tree decorated in pink. The wild garlic and bluebells start to open in preparation for a display next month. The first butterflies are venturing out in the warmth of the spring sunshine and tortoiseshells, brimstones and peacocks can all be seen. These have all hibernated over the winter and are now stretching their wings in the warmth of the spring sunshine!