St. Mary's may be closed until Easter but while the congregation worships in other locations, young people are gaining new skills in carpentry and joinery.
Last year members of the team at Ellis and Co, the church's historic buildings contractor, learned new skills working with lead on the roof of the building. Now the firm have returned to repair the buildings interiors including work to its historic carved pews and wooden paneling, some of which is in worse condition than previously anticipated
Sol Morgan-Clarke who is currently on a Princes Trust course has been assisting Ellis and Co with the pew repairs and alterations in the church, including helping to replace some of the rotten floor timbers. He's progressing so well that the firm have offered him more work on another historic buildings project in the summer. Sol said:
"I'm very grateful to Ellis and co for giving me the opportunity to work on a Grade I listed building like St Mary's. It's been a fantastic experience working alongside fellow carpenters who are very experienced in this type of work. "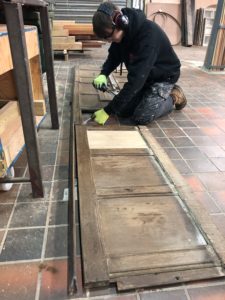 Not all the pews can be repaired on site. Some have been taken to Ellis and co's joinery workshop in Shepton Mallet where 16 year old, Adam Foxwell, is cutting his teeth on the project. Adam is serving the first year of his apprenticeship and attends Yeovil College once a week. He has been helping the experienced joiners in the workshop repairing and piecing in new sections of oak on to the pews. Whilst doing this, he has been taking photographic evidence and noting down what he has done which will contribute to his NVQ level 2 in Carpentry and Joinery.
Meanwhile preparation for the installation of a new, more environmentally friendly, heating system is well underway and heavy stone floors in the west end of the church have been lifted in order to lay new pipe work. The ancient stone font, St. Mary's oldest feature, is being lowered into its original position and a modest section of low grade woodwork is being removed to create a larger and more flexible space as you enter the building.
Hard Hat Tours 27th February 2020
If you'd to see the building during this exciting stage of the project and talk to the team from Ellis and Co. you can join a 'Hard Hat Tour' on Thursday 27th February. There is no need to book, the event is drop-in and tours will commence at 10am, 11am and 12noon.