Charles II's mistress Barbara, Countess of Castlemaine, wasn't big on exclusivity.  She wasn't what you'd call a one man kind of girl.  Lovers paid their money and took their chances, so when the inevitable baby appeared on the scene it was pretty much anyone's guess who the father was.
Her first daughter was initially accepted by her cuckold husband Roger Palmer.  Eventually the King acknowledged the child as his but word on the street was that Philip Stanhope, 2nd Earl of Chesterfield was a more likely candidate. However, her third child came with a much better provenance.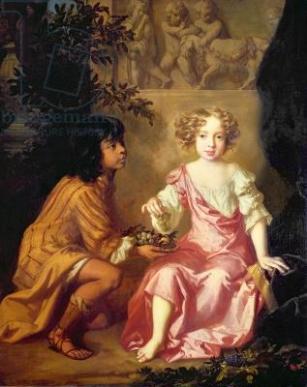 Charlotte Fitzroy was born on September 5, 1664 at her mother's Whitehall Palace apartments.  The king's daughter was said to have her father's mouth, but the similarities went deeper than that.  Charlotte did not share her mother's fiery temperament but was easy going, fun loving and affectionate like her father.  Charles enjoyed a  close relationship with his daughter and the king's brother, the Duke of York later James II, was particularly devoted to his niece.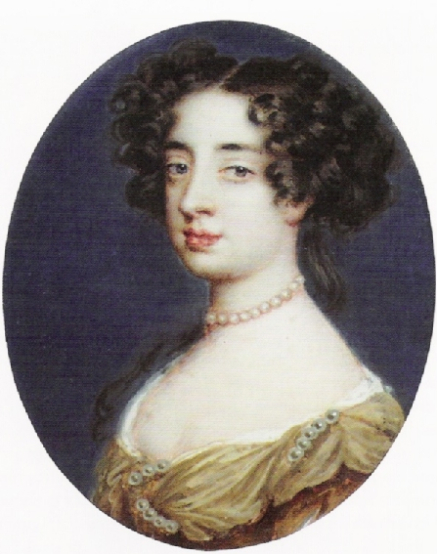 An alliance with a royal child, even an illegitimate one, was an attractive proposition in court circles and Charlotte's future was decided upon before she was barely out of the nursery.  In 1674 a marriage contract, masterminded by Edward's grandmother Anne, Countess of Rochester, was agreed between the king's bastard daughter and Edward Henry Lee. The couple were 10 and 11 years old respectively – and distant cousins.  Charlotte's maternal great grandmother Barbara St John was the sister of Sir John St John, Edward's paternal great grandfather.
The young married couple spent their summers at the Lee family's country estate in Oxfordshire, bought by Sir Henry Lee in 1580.  Sir Henry, Ranger of the Wychwood Royal Hunting Forest caused the wrath of Elizabeth I when he married one of her Ladies in Waiting without first asking her permission.
Legend has it that when Elizabeth visited Ditchley in 1592 she out stayed her welcome, putting Sir Henry to considerable extra expense.  This visit is commemorated in a portrait of the Queen called "The Ditchley Elizabeth" in which Elizabeth stands with her foot on Oxfordshire and her toe on Ditchley.
Edward's grandmother, the formidable Anne St John, married first Sir Francis Henry Lee and secondly Henry, Earl of Rochester.  Following the death of Sir Francis in 1639 Anne used influential friends and feminine wiles to protect her Lee properties at Ditchley and elsewhere and continued to manipulate the financial affairs of her children and grandchildren for more than 50 years.
Young Edward was created Earl of Lichfield, Viscount Quarrendon and Baron Spelsbury upon the couple's betrothal and Charlotte and Edward were married in February 1677.  Charlotte was just 12 years old.
When in London the newly weds home was a property granted by the King to Sir Walter St. John (Edward's great uncle), Sir Ralph Verney, Sir Richard Howe and John Cary on a 99 year lease.  Described as "all that peice …of Ground with the Buildings thereupon Within our Parke called St James Parke – bounded Eastward with the Buildings of the Cockpitt, Southward with the Wall of Hampden Garden, Northward one hundred and forty foote in length to the said Parke, Westward eighty five foote in length to the Parke."
Today the property is the impressive building on Horse Guards Parade designed by Sir Christopher Wren and fronted by an undistinguished row of terraced houses called Downing Street.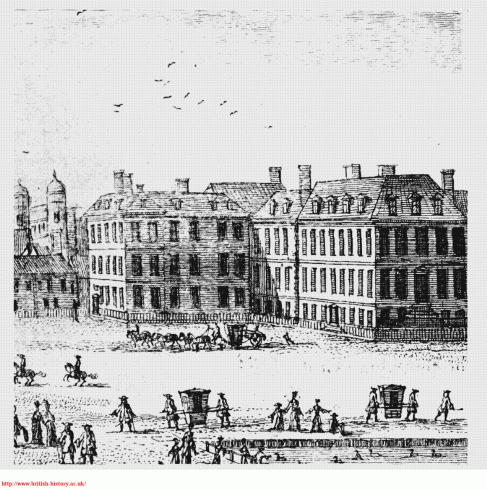 By the age of nineteen Charlotte already had four children and went on to have a further 16, but the couple's 42 year long marriage was apparently a happy one.
In contrast to Barbara's bad press, all references to Charlotte are favourable.  She was a central character in her large, extended family and the only one of her mother's three daughters not to cause a scandal.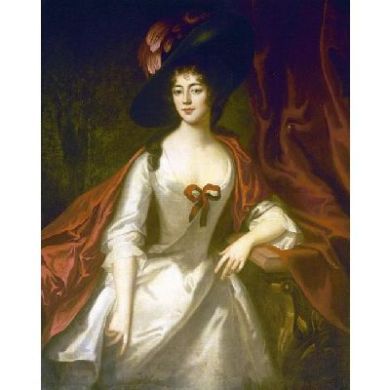 Sir Edward Henry Lee has been described as a dedicated Tory and zealous follower of James II. He was Colonel of the 1st Regiment of Foot Guards in 1688 and served as Lord Lieutenant of Oxfordshire 1687-1689.
Edward died in 1716 and Charlotte two years later.  The inscription on their monument in Spelsbury Church reads – "at their marriage they were the most grateful bridegroom and the most beautiful bride and that till death they remained the most constant husband and wife."