The magnificent tomb of Elizabeth, Lady Berkeley stands against the south wall of the chancel in the church of St. Dunstan with Holy Angels, Cranford, Middlesex. The effigy of Lady Elizabeth, carved by 17th century sculptor Nicholas Stone, is quite exquisite. She is depicted lying on her back with her knees to one side, her body wrapped in a shroud or winding sheet. Sadly the monument has been damaged at some point in its long history and has a large crack across the chest area, but hey does this spoil it, not a jot?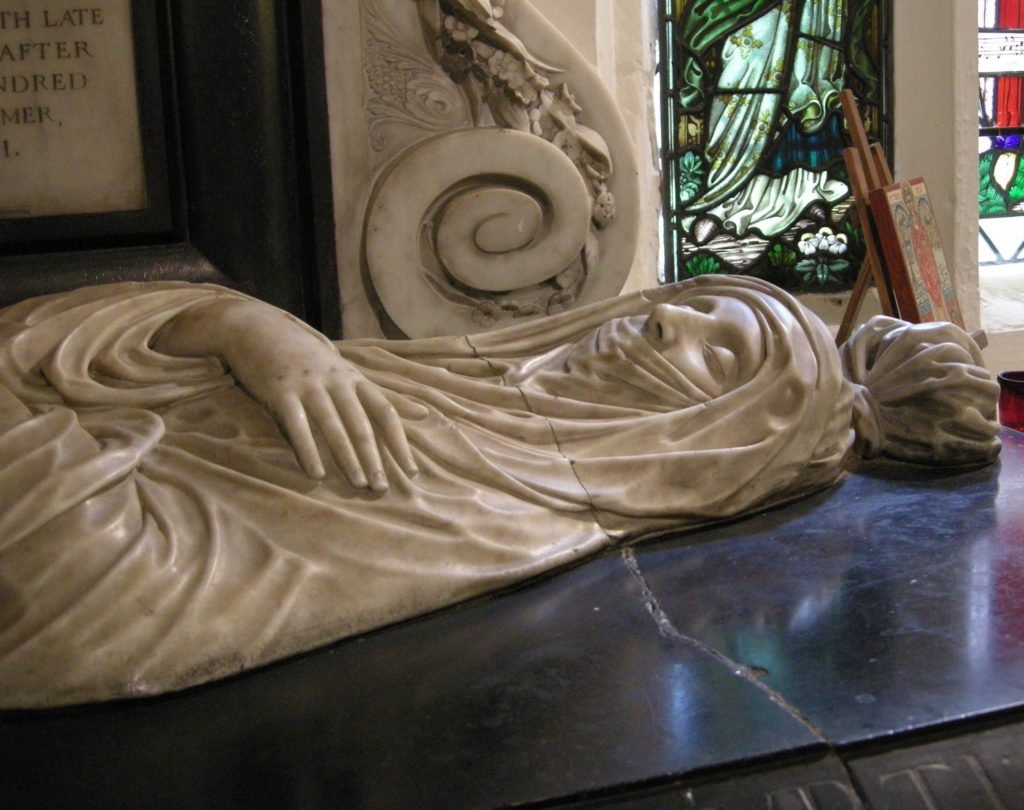 Set in Cranford Park the church of St Dunstan dates back to Saxon times with the present building containing some 13th century features with a 15th century tower and early 18th century nave.  The white marble font was a gift from the Berkeley family in 1710. St Dunstan's is a Grade II* listed building registered in May 1949, which was relatively early in the postwar project to record buildings of special architectural or historical interest that had managed to survive the bombing.
Cranford is a suburban area in the London Borough of Hounslow. Today Cranford Park and St Dunstan lie beneath the Heathrow flight path and alongside the busy M4. Lady Elizabeth wouldn't recognise the place.
Elizabeth Carey was born in May 1576 and married Sir Thomas Berkeley in 1596 when she was still only 19 years old. Berkeley steward John Smyth recorded that Elizabeth brought to the marriage a dowry of '1000li and of land to the value of 1000li.' She was well educated, pious and with a sharp wit. She also sorted out the horrendous debts her husband managed to incur and by the time he died in 1611 he was almost debt free, which must have been some consolation.
The widowed Lady Elizabeth Berkeley bought the two manors of Cranford St John and Cranford le Mote in 1618 for the bargain price of £7,000. She appears to have had an interest in Cranford le Mote from 1614 when she is described as the lessor of the Moat House and orchards.
In 1625 Elizabeth married Sir Thomas Chamberlain, but this was a brief marriage with Sir Thomas dying just three years later. Elizabeth spent the rest of her life at her property in Cranford where she wrote her Will on the 24th day of January 1634. Lady Berkeley was very particular about the details of her burial, stating that she wished to be buried within 48 hours of her death and that she didn't want her body to be 'ripped up, embowelled or embalmed.' Her son George had proved to be a bit of a handful, a chip off the old paternal block, but she made sure he was adequately provided for. She left a property called Durdans in Epsom, Surrey to her daughter Theophila Coke along with various items of jewellery including a valuable piece she calls 'my greate jewell' which she insists must remain in the family and was not to be sold. She wanted her extensive library of books to remain at Cranford and that the 'said Manor of Cranford to remain in the nature of an heire loome for ever' which it did, more or less, until the Berkeley family sold it to the local authority in 1932 and Hounslow Council demolished the house in 1944.
So Lady Elizabeth Berkeley was a pretty interesting character with a magnificent memorial, but what has she to do with the St. John family. Well, actually she was related to Lady Anne St. John, another pretty interesting character with a magnificent memorial.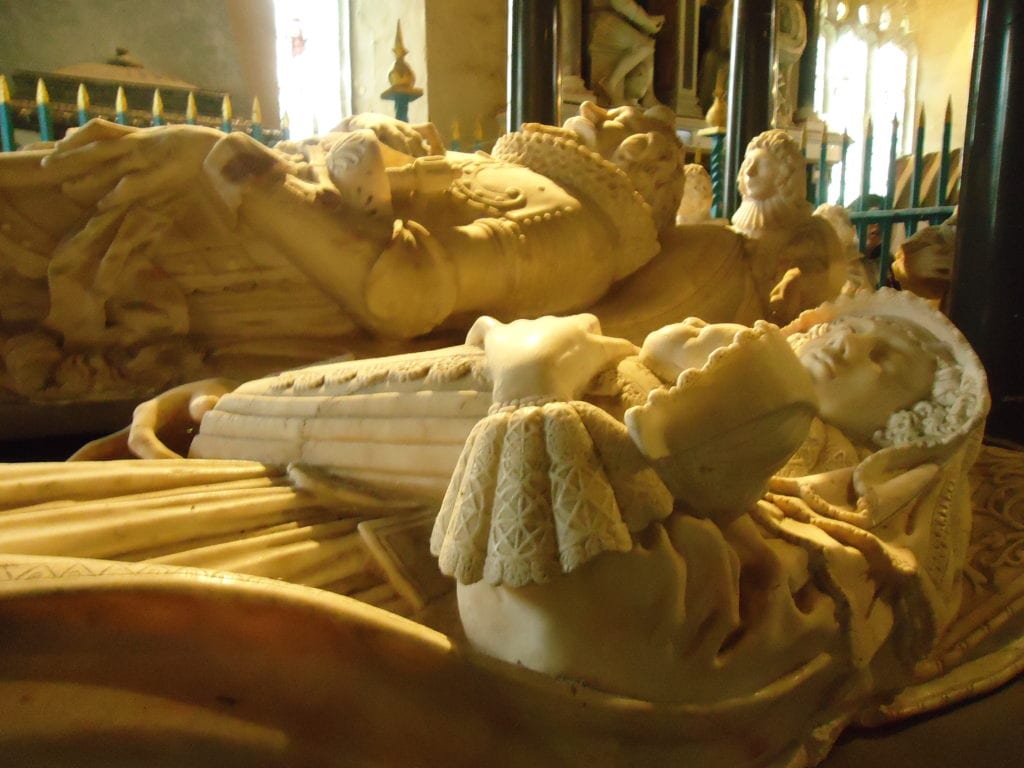 Lady Elizabeth Berkeley was the daughter of George Carey, Lord Hunsdon who was the son of Henry Carey, Lord Hunsdon who was the son of Mary Boleyn, that other Boleyn girl, sister to Anne Boleyn and one time mistress of Henry VIII. This makes Elizabeth Berkeley the great granddaughter of Mary Boleyn.
Now Lady Anne St. John was the daughter of Elizabeth Knollys who was the daughter of Katherine Carey who was the daughter of Mary Boleyn. This makes Anne St. John the great granddaughter of Mary Boleyn. Therefore Lady Elizabeth (Carey) Berkeley and Lady Anne (Leighton) St John are, or were, second cousins.
A translation of the inscription on the St. John memorial in St. Mary's Church, Lydiard Park reads:
Anne was the daughter of Thomas Leighton, Knight, by his wife Elizabeth of the Knowles family and of the kindred of Queen Elizabeth, as blessed in character as in connection. She lived for thirty seven years, endowed with noble gifts of mind, body, and manner, a rare example of virtue and piety; she was the mother of thirteen surviving children, in the end, long worn down by the painful agonies of her last confinement and at last overcome, she fled to heaven on the 19th September, 1638.
(The inscription on the St. John tomb records Anne as having died on 19th September 1638 when in fact she died in 1628.)
The inscription on Lady Elizabeth Berkeley's memorial in St Dunstan, Cranford reads:
Here lieth the body of the most virtvous and prvdent lady Elizabeth Lady Berkeley widdowe, davghter and sole heire of George Carey Lord Hvnsdon, sonne and heire of Henry Carey Lord Hvnsdon sonne & heire of William Carey, and of the Lady Mary his wife, second daughter & coheire of Thomas Bvllen Earle of Ormond and Wilshire, father also of Qveene Anne Bvllen wife to Kinge Henry the Eighth, mother of Queene Elizabeth late Qveene of England; which Lady Berkeley after her piovs pilgrimage of 59 yeares, surrendred her sovle into the hands of her redeemer, the 23th day of Aprill Anno Domini 1633.
(Looks like there might be an error here as well. Lady Elizabeth wrote her will in 1634 and died in 1635.)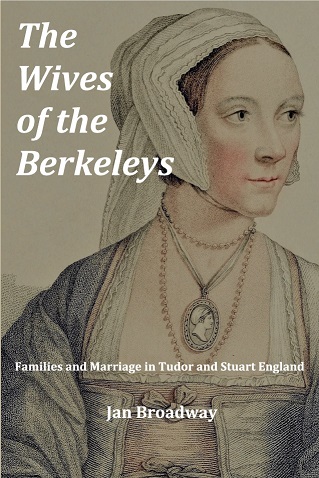 If you would like to know more about the Berkeley women you might like to read The Wives of the Berkeleys – Families and Marriage in Tudor and Stuart England by Jan Broadway.