If there was one attribute the Villiers family had in abundance it was – how can I put this – a tendency to be lewd and loose with a propensity to party.  So the last thing the gene pool needed was another dollop of debauchery.
On March 6, 1770 Frances Twysden married George Bussy Villiers at her stepfather's home in St Martin in the Fields, London.  George, the great-great-great grandson of Sir Edward Villiers and Barbara St John, was some twenty years older than his salacious seventeen year old bride. Frances was the daughter of Rev Philip Twysden, Bishop of Raphoe.  An impeccable pedigree you might hazard – except the Right Reverend was allegedly shot dead while attempting a stagecoach robbery in London. It could be said that the writing was on the wall.
Frances gave birth to at least ten children between 1771-1788, although it begs the question how many her husband George actually fathered. Among her lovers she numbered Frederick Howard, 5th Earl of Carlisle and William Fawkener. And being best friends with Georgiana, Duchess of Devonshire didn't stop Frances from having an affair with her husband, William Cavendish, the 5th Duke of Devonshire either.
But Frances Villiers, Countess of Jersey, is probably best remembered for her affair with George, Prince of Wales, later George IV.
Apparently the amorous 20 year old prince tried his luck with Frances in 1782, but she turned him down, making him wait more than ten years before granting him her favours.  Frances was almost ten years older than the prince and already a grandmother when their affair began.
A member of the Devonshire House set, Frances was both intelligent and witty and enjoyed mixing things up.  Lady Bessborough, the Duchess of Devonshire's sister, once remarked that Frances could not be happy 'without a rival to trouble and torment.'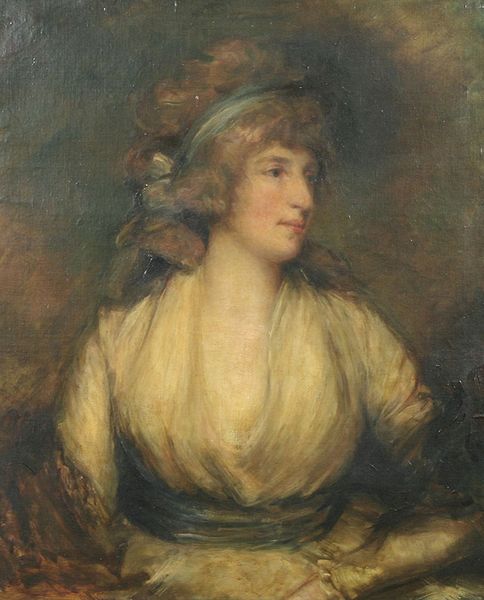 With George's marriage to Mrs Fitzherbert dismissed, invalid under the Royal Marriages Act of 1772, Frances encouraged him to marry his cousin Caroline of Brunswick.  While pointing out this would be a speedy way to settle some of his debts, Frances's motives were less than altruistic, anticipating that the marriage of the the mismatched Prince and Princess would be a disaster and that she would retain her power and influence over George.  Having secured a position as Lady of the Bedchamber to the princess, when the couple parted soon after the birth of their daughter, Frances assumed control of the Prince's household.
However, embroiled in the couple's marital disagreements, Frances was accused of stealing letters written by Caroline to her mother and then passing them to Queen Charlotte.  Frances's royal interference did little to endear her to the populace. Caroline had already won the affection of the British people, appalled by the treatment metered out to her by her unpopular husband. Following this latest outrage the mob turned it's attention on Frances who went in fear for her safety.
Although the Prince would later install Frances and her compliant husband in a home adjoining Carlton House, which incidentally fuelled more public anger, the events of 1796-98 tolled the death knell for their relationship.
Frances died at Cheltenham on July 25, 1821 and was buried in the Villiers family vault at Middleton Stoney, Oxfordshire. Following her death the executor of her will, Lord Clarendon was instructed to burn her papers, including a large number of letters from George IV.
Labelled as one of the most notorious of George IV's mistresses, Frances's affair with the then Prince of Wales had lasted six years, considerably shorter than his 26 year relationship with Mrs Fitzherbert whom she had persuaded him to abandon.