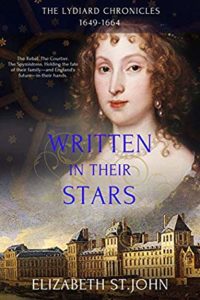 Elizabeth St.John's much anticipated historical novel 'Written in their Stars' was recently awarded "2019 Historical Fiction Book of the Year" by the prestigious Coffee Pot Book Club, and in January 2020 reached #2 on Amazon in the UK, Canada and Australia. The novel also garnered Five Stars from Writer's Digest, and is featured in Elizabeth's 10-city lecture tour across the U.S. in February and March 2020.
London, 1649. Horrified eyewitnesses to King Charles's bloody execution, Royalists Nan Wilmot and Frances Apsley plot to return the king's exiled son to England's throne, while their radical cousin Luce, the wife of king-killer John Hutchinson, rejoices in the new republic's triumph. Nan exploits her high-ranking position as Countess of Rochester to manipulate England's great divide, flouting Cromwell and establishing a Royalist spy network; while Frances and her husband Allen join the destitute prince in Paris's Louvre Palace to support his restoration.
As the women work from the shadows to topple Cromwell's regime, their husbands fight openly for the throne on England's bloody battlefields. But will the return of the king be a victory, or destroy them all? Separated by loyalty and bound by love, Luce, Nan and Frances hold the fate of England—and their family—in their hands.