This month we're celebrating Mother's Day on 14th March with an article by Frances Bevan about Lady Johanna St. John.
Lady Johanna fulfilled many roles. She was chatelaine of two large establishments, the wife of a politician and the mother of thirteen children.
"Bid them have a care of the children and not to let them pick ther noses nor doe any other thing for which I use to chide them,"
Lady Johanna St John wrote to Thomas Hardyman, her steward when the children arrived at Lydiard House for a summer break. Like any other mother, Lady Johanna was anxious that her children behaved themselves.
Lady Johanna married young. In 1649, not yet out of her teens, she married her distant cousin Walter. She descended from the senior Bletsoe branch of the St. John family and Walter from the junior Lydiard Tregoze branch. Johanna's first child Anne, was baptised at St. Mary's, Battersea on December 8, 1650. Henry, John, Johanna and a child who died young were born during the 1650s with Oliver, Elizabeth, Barbara, Walter, John and William in the 1660s followed by Edward in 1670 and Francis in 1672/3.
Sir Walter and Lady Johanna made the Old Manor House at Battersea their main home, closer to parliament where Sir Walter served as Member for Wootton Bassett between 1661-1679 and for Wiltshire on three additional occasions. Their country seat at Lydiard was used mainly for holidays and entertaining. Lady Johanna sent letters to Hardyman with long lists of produce to be sent up to Battersea.
And in the winter of 1660 the Lydiard estate provided a refuge from illness. Her eldest daughter Anne (Nan) had caught small pox and Johanna sent son Harry and his younger sister to Lydiard out of harm's way. The two children stayed with the Rector Timothy Dewell until his wife also contracted small pox when they were moved into Lydiard House.
In December 1660 Johanna wrote to Hardyman:
"Tell (Hary) that if I here he prays and reads and gits his catikisme perfect before I come I wil bring him some very fine thing."
Ten-year-old Nan had been dangerously ill but Johanna was eventually able to write that she was "past the worst she begins to se and sit up a little in her bed." And in the middle of such an anxious period Johanna gave birth to yet another child.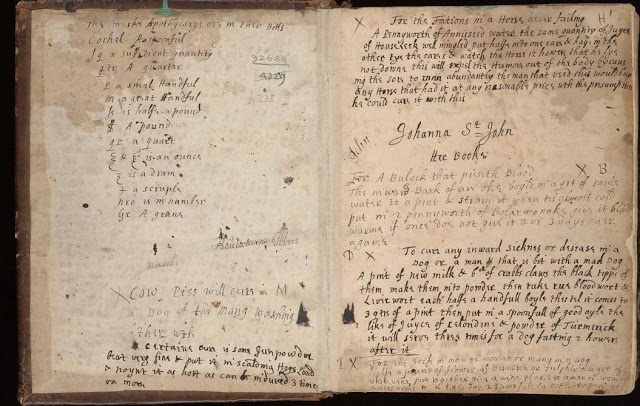 It seems likely that Johanna spent her last years in her own dower house built by Sir Walter should his wife outlive him. She died in 1704 aged 75. She was buried in St. Mary's, Battersea in a coffin 'quilt wth silk' at a time when it was compulsory to be buried in wool. The family had to pay a 50s fine for this privilege.
Of this large family only four children survived Lady Johanna. Anne, who had been ill in the winter of 1660, eldest son Henry and little Johanna, the children sent to Lydiard that same winter, and William. Lady Johanna's recipe book contains a splendid collection of culinary, cosmetic and medicinal recipes including many curatives for children
Photographs of Lady Johanna St.John's Recipe Book courtesy of The Wellcome Library, London.