Aerial photographs of Lydiard's lawns during the summer 2022 drought have caused quite a stir as they reveal for the first time the outline of the 17th century gardens that were swept away when the parkland was redesigned.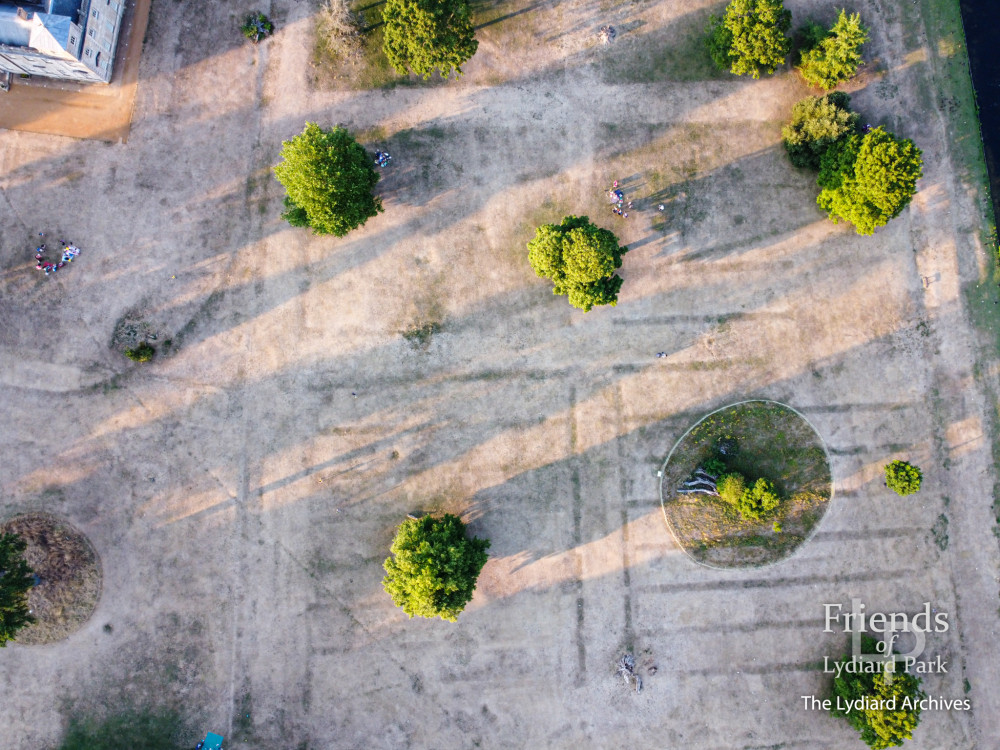 The first baronet, Sir John St. John (died 1648) is credited with creating formal gardens and remodelling the medieval house at Lydiard. Sir John made Lydiard Park his principal residence, and from 1615 he invested in in splendid monuments in the church including the Golden Cavalier, a memorial to one of the three sons lost in the Royalist cause during the Civil War.
The earliest known plan of the park was made in 1700. It shows a bird's- eye view of the Elizabethan style manor house fronted by a gravel forecourt, railed and gated from the park. This was the design that Billy Beaumont used to create his splendid picture of the house and garden that is on display in the hotel foyer. It is also the garden that Queen Elizabeth I would have seen when she visited Lydiard on her royal progress in 1592.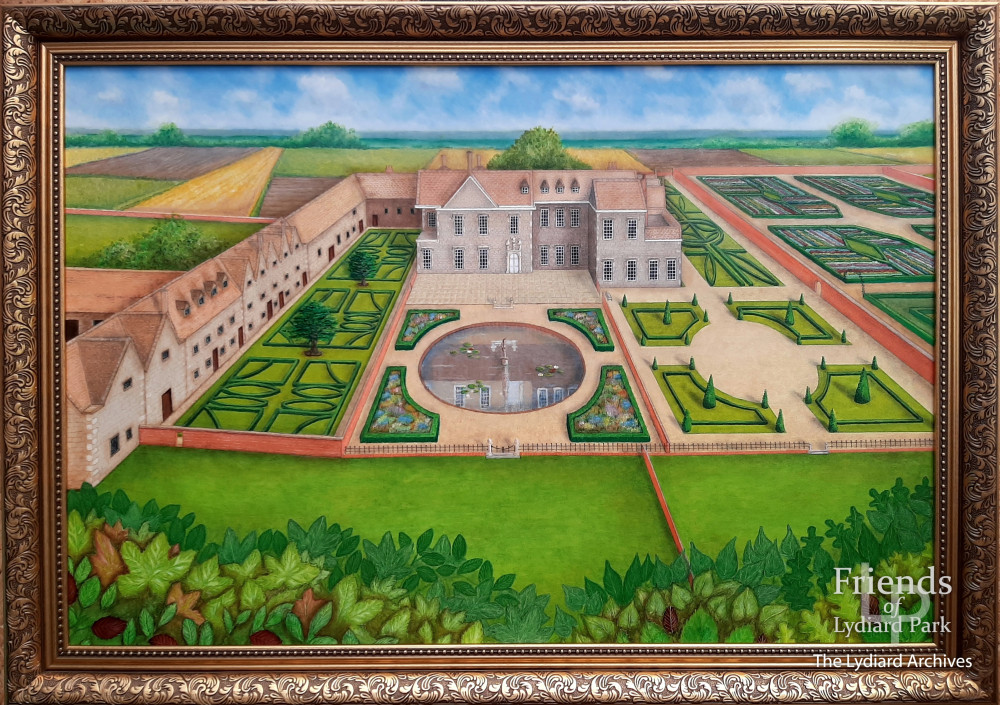 Beyond the house to the south east, where the current lawn sweeps down to the lake, the plan shows a grid of formal gardens with topiary, paths and terraces overlooking a formal canal. Straight lined avenues stretch out towards the wider estate. The discovery of a bowling ball during excavations in the lake shows that the gardens were also used for bowling in the 17th century.
Beyond the canal the Old Pond was a remnant of the medieval deer park, used for the production of tench, carp and other fish. Fish were used to feed the family during Lent and on Fridays, but the pond also served as a ready-made larder for visitors.
Sir John's daughter in law Lady Johanna St John was the real garden enthusiast and the new plantings and brickwork shown in the 1700 plan point to her influence. She had an extensive knowledge of plants and herbs and their healing properties and kept a record of the poultices, purges and potions she made. Whilst the humps and bumps that are still visible on the lawn today are clues to the lost gardens of Lydiard, the grid design beneath the surface required a hot dry summer to show us what lies beneath, a link between the present and the long history of the estate.