March 24th marks the birthday of Lady Diana Spencer who married Frederick St'John, 2nd Viscount Bolingbroke, in 1757. The Lydiard Archives collection holds two beautiful miniatures of the couple.
This portrait of Frederick, a StJohn family heirloom, is set in a fine gold brooch, decorated with pearls and diamonds in the form of a coronet. The miniature was possibly commissioned as a love token for his wife Lady Diana when they married.
Meanwhile this finely painted miniature of a young lady wearing a pink and white gown, pearl necklace, pearl drop earrings and a fashionable hairband is believed to be of Diana, the beautiful and artistic daughter of 3rd Duke of Marlborough.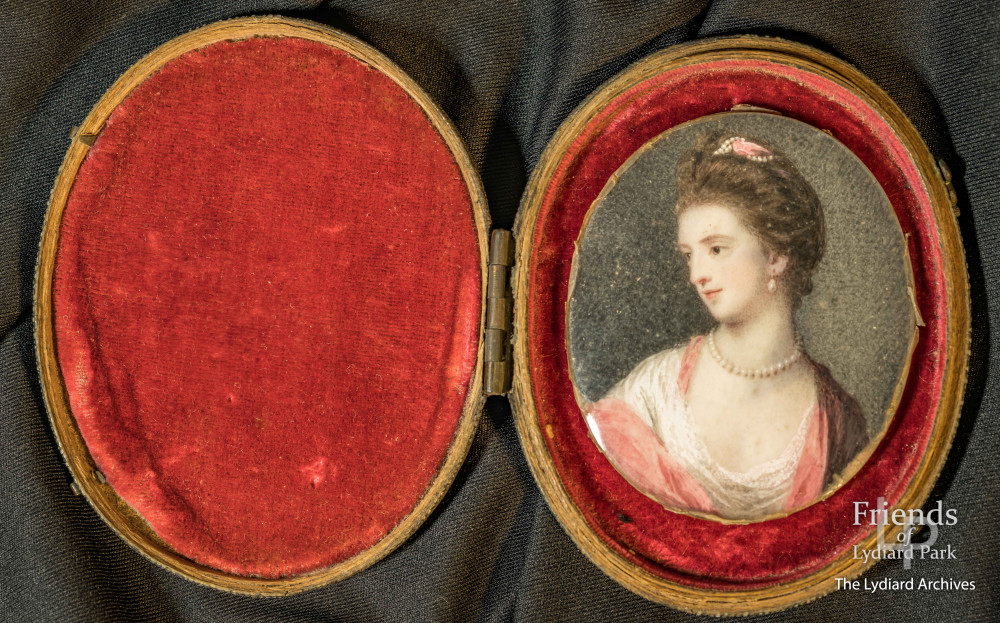 Still unmarried at 22 years Lady Di, as she was known, seemed reluctant to settle down, but a chance meeting with Frederick St.John changed the course of her life.
'The couple met at that notorious party venue Vauxhall Gardens, where wealthy young aristocrats rubbed shoulders with the working girls of London. Frederick's companions were teasing him about his single status when apparently, he turned to Diana and jokingly asked, "will you have me?", to which she replied, "yes, to be sure".' Ladies of Lydiard by Frances Bevan, 2021
On reflection, what had seemed like a high spirited moment to be easily dismissed had upsides for both Diana and Frederick and their respective families. The wedding was swiftly arranged and took place on 8th September 1757 at Harbledon in Kent.
Lady Di's trousseau included gorgeous silks, brocades and lace from the continent. Her spending spree continued during the couple's honeymoon when she bought materials for a whole new wardrobe featuring quantities of silver pink brocade. At the time the colour pink, made fashionable in France, was all the rage – the perfect choice for a romantic looking gown.
Lady Di and Frederick set up home in no. 7 St. James' Square, one of the most fashionable streets in London, spending summer months at Lydiard Park. The small boudoir in Lydiard House which is believed to have been her private sitting room is dedicated to her artistic works.
The miniature is set behind convex glass in a shagreen oval case and was in all probability a gift from Lady Di to her husband.
The couple were the subject of endless society gossip. Frederick was known for his expensive tastes, a penchant for luxury items and an addiction to drink, gambling, racehorses and philandering. Lady Di's reputation was ruined following her affair with Topham Beauclerk whom she later married after the couple scandalously divorced.
In 1950 Vernon StJohn, 6th Viscount Bolingbroke gave the miniature brooch of Frederick as a wedding present to his wife, Valezina Frohawk. Sadly the love token was to no avail. The couple's marriage was annulled in 1952 with Valezina later writing (I Remember by Valezina ISBN: 0 947718 10 9) ' I know that he was completely devoted to me, in his own strange way' but their time together was one of 'anxiety and bewilderment'.