Prince George and Princess Charlotte are expected to return to school at Thomas's Battersea this September, a school historically connected with Lydiard Tregoze. Thomas's occupies buildings which formerly belonged to the Sir Walter St. John School. In fact the Manor of Battersea was held by the St. John's of Lydiard Tregoze from 1644 to 1763 and Sir Walter St. John, who endowed the school in 1700, made Battersea his principal home.
On July 3, 1708 Sir Walter St.John, whose name was given to the old school, died peacefully at Battersea Manor, attended by his servants, just as his late wife Lady Johanna had requested in her will.
'I desire if Sr Walter St John outlive me him his old servants may be continued about him & that he may not be removed to Liddiard London or any other place from Battersea wher he has lived so long least he hasten his Death.'(1703)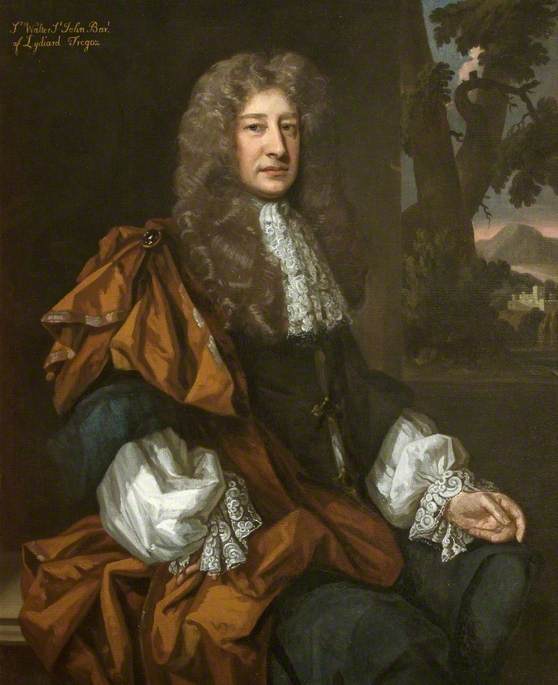 Battersea was more convenient for Walter than Wiltshire though he and Joanna did return to Lydiard for holidays and occasionally to escape the plagues in London. Walter served at various times as MP for both Wiltshire and Wootton Bassett and needed to attend Parliament which was a relatively short trip up the Thames.
Unlike some of his more decadent descendants Walter was known for his puritan outlook and moral probity. In 1700 he founded the school for twenty poor boys from the parish of Battersea, leaving it well provided for in his will a few years later.
'I give and bequeath to the Minister of Battersea and the Schoole Master and Trustees for the time being for the Schoole of Battersea the summe of Two hundred pounds in Trust onely that the same shall as soone as Conveniently may be be layd out in the purchase of lands of Inheritance And the Incombe and Revenue thereof from time to time to be Applyed in binding and placeing out Apprentices of One or more Children to be taken out of the said Schoole Which said last mencioned Legacy or Charity of Two hundred pounds I doe Appoint shall be payd within Twelve Months next after my Decease.'
By 1858 the school site was subject to a major rebuild. Sir Walter's original school house was demolished to make way for William Butterfield's Gothic Revivalist new building which you still see today. In 1977 Sir Walter St John's Grammar School became a Comprehensive School and following various mergers with other schools and final closure the Grade II listed building was acquired by David and Joanna Thomas who founded Thomas's London Day School.
Speculation had been that Prince George would attend Wetherby, a pre-prep school in Notting Hill Gate, favoured by the Prince and Princess of Wales for Princes William and Harry. The Duke and Duchess of Cambridge however, decided to go for Thomas's where the school says its ethos places a greater emphasis on a set of core values, including kindness, courtesy, confident, humility and learning to be givers, not takers.  Charlotte followed her brother there in 2019. Co-incidentally, not only do the royal children attend a school housed in the former Sir Walter St John School, they can also trace their ancestry back to Walter's parents, Sir John St. John and Anne Leighton of Lydiard Park!