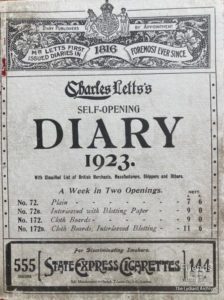 On January 1, 1923 it was work as usual for Elliot Woolford with a trip to Swindon market and a delivery of 13 gallons of milk to Callow Park Dairy, 103 Commercial Road. Back home at Hook Farm Carter was working on the chain harrow in Broadfield and Dayes meadow while Fred Godwin was attending to the cows and then hedge barging in Dayes.
The New Year celebrations were still in full swing in Swindon and the local villages. On January 2, Miss Dolly Ody and Miss K. Habgood took Elliot's nine year old son Rowlie to a performance of the pantomime Dick Whittington at the Swindon Theatre.
Elliot, Amy and Miss May Crump went to a dance at Lydiard Millicent. Elliot writes:
"We three drove over to Lydiard Millicent Schools put horse in Wm Hiscock's stall. It went off fairly well but short of gentlemen. I played "Nap" nearly all the time with Messrs A. Boyce, H. White, O. Titcombe, & J. Webb. I won 12/-. Tickets 5/- each spent 1/- on refreshments about 50 there got home at 2.30 a.m."
He begins his diary entry the following day –
"Feeling tired after dance. Odd work & sleep went to bed 3.15 got up at 6 o'clock."
In his daily weather report Elliot records a pretty mild January with just the occasional frost and some rain. Monday January 8 –
"dull wet morning fine afternoon clothes nearly dried."
And by the end of the month there were the first signs of spring on the farm.
Sunday January 28 –
"Amy, Rowlie and I went for a walk down the fields this afternoon picked some primroses in the Home Ground."