'For as long as I can remember I have been fascinated by graveyards and cemeteries' says Tania O'Halloran. ' They have been my "church" – the place where I can be alone yet not really alone. The place where the past, present and future merge together if you take time to look, listen and learn'. Tania joined the Friends in 2020, after hearing about our Grave Survey and Lydiard Tregoze Family History Project. She was the ideal candidate for a bit of grave investigation! She tells us:
'My "hobby" has long been a source of teasing from my family and friends who felt this was a tad morbid and ghoulish with a death obsession! But they couldn't be further from the truth – I am and have always had a curiosity into what makes us humans tick – why we behave the way we do, where we come from and the influences that shape us – learning about the people buried in our cemeteries their history, ancestors, and even the community…….and I am not alone. There is a worldwide network commonly known as Tombstone tourists – or "cemetery enthusiasts", but to give it a formal name we are known as "taphophiles" – people who have a passion for and enjoyment of cemeteries, epitaphs, gravestone rubbing, photography, art, and history of (famous) deaths. Some say William Shakespeare and Edgar Allen Poe were taphophiles themselves! Who knew?
Not long after moving to Lydiard Millicent I took a walk to Hook Street cemetery – a place I have often passed in the car but not ventured into. It's set off the road and has always piqued my interest. I did a bit of research and after catching up with Revd Trevor Day (Associate Minister at Lydiard Tregoze) and an old colleague from my BT days I found out about the Friends digital Grave Survey & Family History Project which has been set up to help us discover more about the lives of local people in Lydiard down the centuries.
In the last 6 months I have worked with Lynda Pidgeon who is leading the 100 Wills Project transcribing old wills from the National Archives. To date I have slowly worked my way through a number of old wills dating back to 1749. It has been a huge challenge but oh so satisfying and in lockdown times has given both myself and my very supportive husband Steve many hours of challenging and amusing hours!
The Friends have commissioned a digital survey of the graveyard at St. Mary's Church Lydiard Tregoze and the parish cemetery on Hook Street which will enable people to search for and view graves on-line with links to historic Burial Registers which are held at the Wiltshire and Swindon History Centre. I will shortly be helping to map each identified grave with their unique identity number so that we can then begin the process of adding photographs and details of each.
Just close your eyes and imagine a place with local artifacts dating back to the early days of a community. All around you are hand-crafted pieces of art, ranging from small folk art to life-size sculptures of the human form. Representations of architecture can be found throughout as well as examples of stunning stained-glass windows and so much more. Graveyards and cemeteries are our 'outdoor museums' and contain so much history that we must preserve and learn from.
I am so happy to be able to combine my passion with this really fabulous project and would encourage anyone with any sort of interest in history, genealogy and/or palaeography (old handwriting) no matter what age or skill base to volunteer – just get involved it could open up a whole new world for you. [email protected]
Tania tells us more about fascinating graves you can visit
'Over the years I have visited and blogged about the many wonderful places across the country – heritage graveyards commonwealth war graves, and abandoned sites all offering a wealth of incredible architecture and captivating stories. Famous ones like Highgate and Bunhill in London, as well as county parish graveyards like All Saints in Down Ampney – where the composer Ralph Vaughan Williams was born and on a beautiful sunny morning the church setting gives it the sort of pastoral tranquillity where you could easily come across a lark ascending!
Holy Trinity church in Slad Valley Gloucester which is the resting place of Laurie Lee best known for his 1959 memoir "Cider with Rosie" , Arnos Vale in Bristol inspired by the Père-Lachaise cemetery in Paris and where Harry Blanshard Wood who was a decorated war hero and received the Victoria Cross, the highest and most prestigious award for gallantry in the face of the enemy. And closer to home the lovely Radnor Street cemetery where local boy and war hero Squadron Leader Harold Starr rests – "One of the few".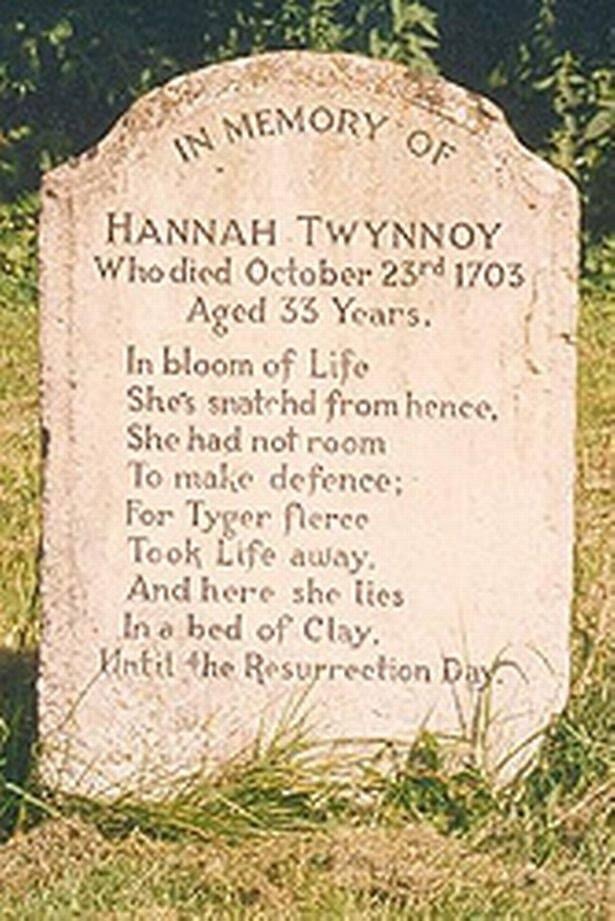 One of my favourites graveyards has to be Malmesbury Abbey where I stumbled across a grave for a lady named Hannah Twynnoy – (c. 1669/70 – October 1703) and is believed to have been the first person to have been killed by a tiger in Britain!'