It's hardly surprising that two of Barbara Castlemaine's three daughters went off the rails.  What is amusing is just how horrified the good gentlewoman was when they did so.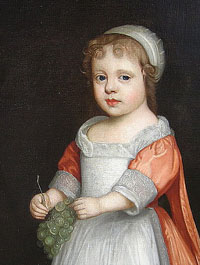 Anne Palmer was the first of Barbara's six illegitimate children, supposedly conceived on the night of Charles II's coronation in the early days of Barbara's reign as maitresse en titre.  But to be perfectly honest there were a couple of candidates for father – the most unlikely of whom was Barbara's husband Roger Palmer.  Both Palmer and Charles accepted paternity but Philip Stanhope, 2nd Earl of Chesterfield was generally believed to be little Anne's father.
Anne, unlike her easy going, loveable sister Charlotte, was a chip off the old maternal block.
Aged not much more than thirteen Anne was married to Thomas Lennard, Lord Dacre at a sumptuous ceremony held at Hampton Court on August 11, 1674.  Guests included the King's brother, the Duke of York; his nephew Prince Rupert and his eldest illegitimate son James, Duke of Monmouth.  Charles provided a £20,000 dowry for his daughter and settled a £2,000 pension on the bridegroom, conferring upon him the title of Earl of Sussex.  Whether Thomas ever received his wife's dowry is debatable as the King's largesse was frequently just a gesture.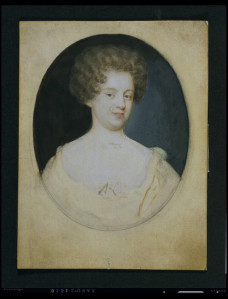 The marriage proved to be an unsatisfactory one.  The first sign of trouble came with the arrival of Hortense Mancini, duchesse Mazarin who appeared on the scene in 1676 having fled her own eccentric and abusive husband Armand Charles de la Porte, reputedly then the richest man in France.  Hortense had her sights on Charles – the couple had some 'history' – and she soon supplanted his then current squeeze Louise de Kerouaille.
Not only did Hortense bed the King, but rumour had it, his daughter Anne as well.  Unhappily married for two years and still only fifteen years old, Anne fell for the older woman's charm and sense of fun.  They took fencing lessons together and once took part in a public match in St James's Park wearing only their nightgowns.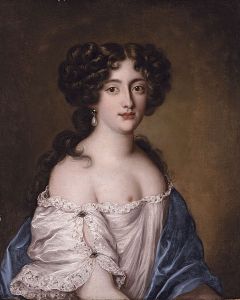 This could be said to be the straw that broke the camel's back, and Anne's exasperated husband removed her to the country where she wept and wailed for her lover, spending the days in bed kissing a miniature portrait of Hortense.
Perhaps even these measures weren't enough to subdue the wilful Anne.  The next reference to her comes two years later when in 1678 we find her in a French convent, living within reach of her mother Barbara who had retired to Paris, and also Ralph Montagu, Ambassador to France.  Courtier, diplomat and all round wheeler dealer Ralph Montague was more than twenty years older than seventeen year old Anne and had also been Barbara's lover, when he seduced and abducted the young Lady Sussex.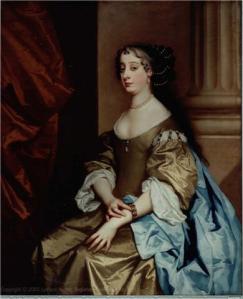 "I was never so surprised in my whole life-time as I was coming hither, to find my Lady Sussex gone from my house and monastery where I left her, and this letter from her, which I here send you the copy of," a furious Barbara wrote to Charles.
"She has never been in the monastery two days together, but every day gone out with the Ambassador and has often lain four days together at my house, and sent for her meat to the Ambassador; he being always with her till five o'clock in the morning, they two shut up together alone, and would not let my maitre d'hotel wait, nor any of my servants, only the Ambassador's."  Did Charles see the irony in all this?  
"I am so much afflicted that I can hardly write this for crying, to see a child, that I doted on as I did on her, should make me so ill a return, and join with the worst of men to ruin me," she continued.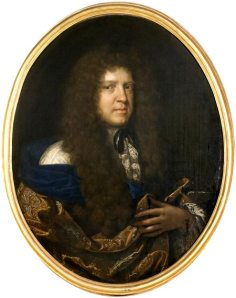 Unfortunately little else is known about Anne.  She had four children by Thomas Lennard but the couple eventually separated in 1688, so perhaps she didn't calm down.
Anne wrote her will on May 15, 1722.  The first matter she wanted to address was the details of her funeral.  "I commend my Soul to the infinite mercy of God my Body to the Earth to be buried with the least expense viz early in the morning and one only Mourning Coach to attend my ffunerall."
Anne had invested £4,050 in the South Sea Company.  As her will was written after the infamous South Sea Bubble of 1720 which saw so many lose their investments, presumably she managed to hold on to hers.
She divided her £4,050 between her two daughters, Lady Barbara Skelton and Lady Anne Teynham, with bequests to her two grandchildren Anne Roper and Thomas Barrett Lennard.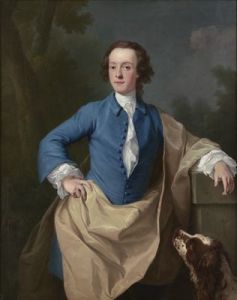 To her old servant Margaret of Radclyffe she left an annuity of £30 per annum during her natural life.  Other servants received a year's wages over and above what was due to them.
Sadly there are no personal items such as those mentioned in her kinswoman Bridget St John's will.  Anne appears only to be interested in hard cash, very much like her mother.
Anne appointed her son in law Henry, Lord Teynham as her executor and her will was witnessed by Charles Boucher, John Harrison and James Rainford.  She died the next day.