On a recent visit to Salisbury Cathedral I discovered this magnificent memorial. I took a step back, well several infact as I was unable to capture it all in a photograph. This memorial is dedicated to Lady Katherine Grey and her husband Edward Seymour, Earl of Hertford. Her effigy is elevated above that of her husband's to reflect her royal ancestry.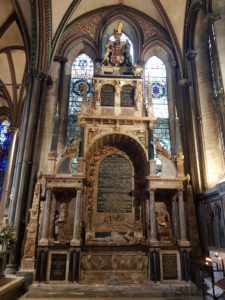 Katherine is remembered for two cataclysmic 16th century events; a perceived threat to one queen and the execution of another.
Lady Katherine Grey was born in c1540 the daughter of Henry Grey 1st Duke of Suffolk and his wife Lady Frances Brandon. She was also the younger sister of Lady Jane Grey.
On his deathbed King Edward VI, the much desired son of Henry VIII, nominated his cousin, the Protestant Lady Jane Grey as his heir, hoping to thwart the succession of his Catholic half sister Mary. Of course Mary was not going to allow this to happen and within days of Lady Jane being declared Queen she was beheaded on Tower Green.
In 1553 thirteen year old Katherine Grey had been married to Henry, Lord Herbert but it all got a bit tricky following the death of Edward VI and Henry's family secured an annulment.
In 1558 Elizabeth I succeeded to the throne and Katherine's life grew even more difficult. She was now one of those closest related to the queen and a potential successor. As such, Katherine was forbidden to marry without the Queen's knowledge or consent, but in 1560 she did just that and married Edward Seymour, Earl of Hertford. The news broke when she could no longer hide her pregnancy. Incandescent with rage, Elizabeth banished both of them to the Tower, but failed to keep the lovers apart. Following the birth of their first son Edward, Katherine produced another, Thomas in about 1563, in the Tower.
Katherine and Edward's marriage was annulled and their sons declared illegitimate, which Elizabeth obviously hoped excluded them from any claim to the throne. Elizabeth removed Katherine from her husband and sons and for the next five years she was placed under house arrest and pushed from pillar to post.
She died on January 26, 1568 at the age of 27 and was interred at Cockfield Chapel in Yoxford Church in Suffolk where she remained for more than 50 years.
Edward Seymour died in 1621 aged 81 and was buried in the Seymour Chapel in Salisbury Cathedral. Katherine and Edward's grandson William, 2nd Duke of Somerset, had Katherine's body removed from her burial place in Suffolk to be reunited with her husband. This magnificent monument is believed to date from 1625.
Why is Katherine deserving of a place in the St. John/Lydiard Park story, I hear you ask?
Katherine, as previously stated, was the daughter of Lady Frances Brandon. Frances was the daughter of Mary Tudor who was the daughter of Henry VII and his wife Elizabeth of York. And as we all know, Henry VII – Henry Tudor – was the grandson of Margaret Beauchamp who owned the Lydiard estate and married Sir Oliver St. John.