At the end of the 17th century life continued to be pretty short and precarious whatever one's status. Medicine was still mired in superstition and women of child bearing age were particularly vulnerable.
Johanna St John's Booke dated 1680 representing a lifetimes collection of receipts and remedies is held at the Wellcome Library, a repository of books, manuscripts and archives recording the history of medicine. Most great homes had just such a book – the difference with Johanna's is that she included contributions from eminent doctors of the day.
When John Wilmot, 2nd Earl of Rochester, lay in his final agonies, his mother Anne consulted her sister-in-law Johanna for a draught to ease his sufferings.
Johanna obviously practised what she preached, surviving the birth of 13 children and living to the grand old age of 75. Sadly her three Wilmot great nieces proved to be less fortunate and Anne died in 1703 aged 36.
Anne was the eldest of four children born to Elizabeth Mallet, Countess of Rochester, wife of the disreputable but talented second earl, John Wilmot. Anne's early childhood was spent largely at her parents Oxfordshire home at Adderbury and her mother's property at Enmore in Somerset.
It was at Adderbury that Anne married her first husband Henry Baynton in July 1685. Henry, the son of a family friend, was 21 and Anne was 18. Anne was a good catch. Along with her two younger sisters she was co-heiress to her late brother's estate and brought land valued at £21,000 to the marriage.
The ancient Baynton family had long been pally with the Royal family and had played host to Henry VIII and James I at the magnificent Bromham House. Built in 1538 by Sir Edward Baynton at a reputed cost of £15,000 and said to be as large as the royal palace at Whitehall, sadly Bromham House was destroyed during the Civil War. Sir Edward's grandson, another Sir Edward (1593-1657) rebuilt the Baynton family home as Spye Park and it was at this address that the newly weds set up home.
At the time of their marriage Henry, Tory MP for Chippenham, was already engaging in a spot of property speculation, buying Hinton Priory, the Manor of Farleigh Hungerford and various land from the profligate Sir Edward Hungerford.
Known as 'Hungerford the Waster' Sir Edward was a distant relative of Henry's wife Anne. Anne was the 2 x great granddaughter of Lucy Hungerford, pictured with her first husband John on the St John polyptych in St Mary's Church, Lydiard Tregoze. Following John's death in 1594 Lucy married her kinsman Sir Anthony Hungerford, had three more children, bringing her total up to 13 before dying in 1597. Sir Anthony married secondly Sarah Crouch and Sir Edward was his grandson from this second marriage.
Henry bought the Manor of Farleigh with the Castle for £56,000. Although the immediate Hungerford family mourned the loss, they might have been consoled had they known the Castle remained in the extended Hungerford, St John, Wilmot family.
The young Baynton family moved in but within four years the dream came crashing down about their ears. Henry died suddenly on July 11, 1691 in his 27th year, following a short illness and was buried the same day in the crypt at St Nicholas' Church, Bromham. Sadly all this property buying had left Henry up to his eyes in debt. His Will written shortly before his death devised most of the Hungerford estates to his executors Sir Edward Warneford and Walter Grubbe, to be sold to clear these debts.
Anne had the income from her mother's estate at Enmore, which she inherited when she was 24, bit it was far from plain sailing thereon in. Anne was forced to sell most of the remaining Hungerford estates with her favourite Farleigh Castle and Park sold to Hector Cooper of Trowbridge.
Her two young children, John and Anne aged 3 and 2 respectively at the time of their father's death, were placed under the guardianship of the said Walter Grubbe of Eastwell House, Potterne, MP for Devizes, although they probably continued to live with Anne.
It was imperative that Anne remarry, and quickly, but she chose her new husband carefully, marrying Francis Greville, MP for Warwick, on January 26, 1693. Francis was the son and heir of Fulke Greville, 5th Baron Brooke of Beauchamp's Court, and herein lies yet another connection to Anne's St John ancestry.
The Manor of Beauchamp's Court at Alcester had been acquired by Sir Fulke Greville in the mid 16th century, inherited by his son and grandson. However the third Sir Fulke Greville died in 1628 unmarried and without issue and his titles and estate passed to his adopted son Robert Greville, his second cousin once removed and now came into the branch from which Anne's second husband Francis descended. Unfortunately Francis missed out on inheriting the title of 6th Baron Brooke and Beauchamp's Court – oh, and not forgetting Warwick Castle – as he died just 11 days before his father also shuffled off this mortal coil. All the goodies went to Francis and Anne's eldest son Fulke who only survived his father by four months when everything then went to his brother William.
So where is the St John link? Beauchamp's Court had once belonged to Walter de Beauchamp, the 4 x great grandfather of matriarchal Margaret Beauchamp who married Oliver St John c1425.
Well now we've sorted out that medieval Monopoly board, let's proceed. Anne went on to have a batch of Greville children, four of whom survived to adulthood. Fulke born c1693, William 1694, Elizabeth and Catherine in 1698.
Her Baynton daughter Anne eventually went on to marry wealthy Edward Rolt while her second Greville son moved into Warwick Castle.
Anne died in 1703. Her body was returned to Bromham for burial alongside her first husband Henry. The photograph of her memorial in the church is reproduced here courtesy of Duncan and Mandy Ball.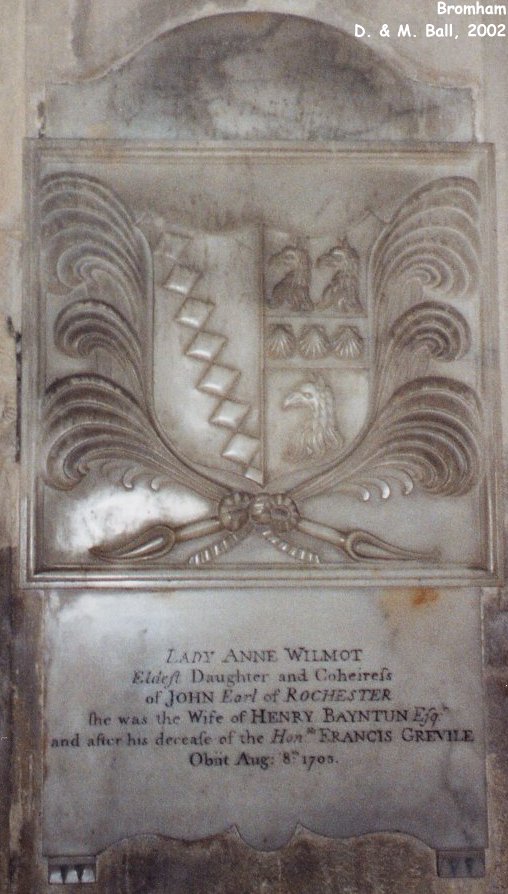 Many thanks to the Baynton History website.