Two first cousins named Barbara Villiers – born thirteen years apart and named after their grandmother Barbara St John. Their fathers, brothers William and Edward Villiers both fought for the Royalist cause and were injured at the Battle of Newbury in 1643, William fatally so. And both Barbara's were to become Royal favourites – one the mistress of Charles II the other close confidante of Queen Anne.
Barbara Villiers and Sarah Churchill were the Queen's two oldest associates –  Barbara and her sisters had grown up with the Princesses Mary and Anne at Richmond where their mother Frances was employed as the Royal daughters governess while the young Sarah Jennings had come to court in 1673 as one of the Duchess of York's – Anne's stepmother – maids of honour. A friendship forged in girlhood would become a roller coaster ride for all three women.
Eventually the three friends would spectacularly fall out and bad mouth each other, but not before Sarah had wielded considerable political influence and Barbara had acted as a household spy for the new King and Queen.
Barbara Villiers married John Berkeley whose Royal career had begun as a Page of Honour to Charles II in 1668.  He served alongside Barbara's father in Sir Edward's regiment and in 1688 deserted James in favour of William of Orange alongside Anne's husband Prince George and Sarah's husband John Churchill.  Master of Horse in Anne's household, he later became Teller of Exchequer and Treasurer of Chamber, positions he held until his death in 1712.
While Sarah and Anne had pet names for each other and exchanged gossipy letters, Sarah and Barbara were also best buddies.  These were the days of the romantic same sex friendship and despite their married status, there has been continued speculation as to the sexual nature of their friendship.
Following Anne's marriage to Prince George of Denmark in 1683 the three married couples all lived at the Cockpit, a suite of rooms at Whitehall. Anne installed Barbara in the nursery following the birth of her first child Mary in 1685 and then proceeded to criticise every decision she made – to Sarah.  But Barbara retained her position in the royal nursery throughout Anne's 17+ pregnancies of which just five resulted in a live birth.  Four of the royal babies died before the age of two.
On July 24, 1689 Anne gave birth to a son, William.  Described as a sickly boy, Anne Somerset suggests in her biography Queen Anne – The Politics of Passion, that William had suffered from either meningitis or a middle ear infection as an infant, leading to hydrocephalus.
Barbara was appointed the boy's governess until Marlborough took over in 1697.  In 1703, three years after the death of the young Prince, Barbara was awarded a yearly pension of £600.
Barbara wasn't the only member of the extended St John family at the Court of Queen Anne.  Henry St John, her second cousin once removed, was Secretary at War and instrumental in securing the Treaty of Utrecht for which he was made Viscount Bolingbroke – a huge disappointment as he was expecting the earldom.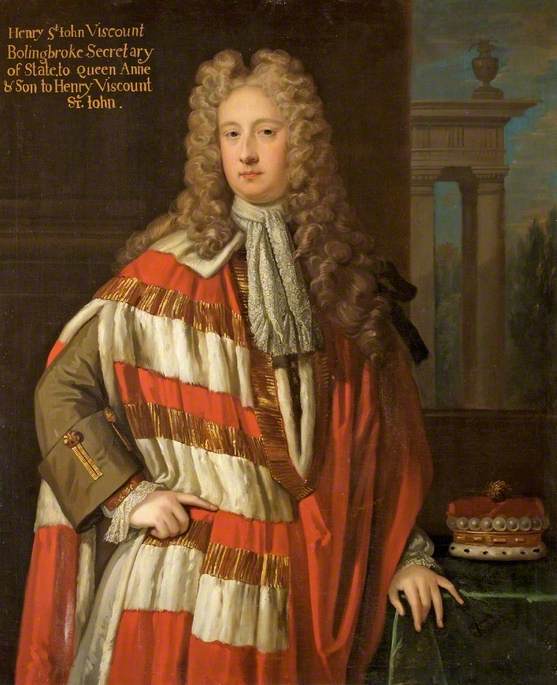 Tricky Barbara Villiers was once described "as witty and pleasant a lady as any in England" but is probably better remembered as being deviously deceptive and like all the Villiers women  ambitious.  Her last years have proved difficult to navigate.  She died on September 19, 1708 but where she is buried is proving elusive.  John outlived her by four years and died of the palsy in Windsor on December 19, 1712.  He was buried in Westminster Abbey on December 26.  The couple had two surviving daughters, Barbara and Mary.