Maria Gunning must have been a tough act for Barbara St. John to follow.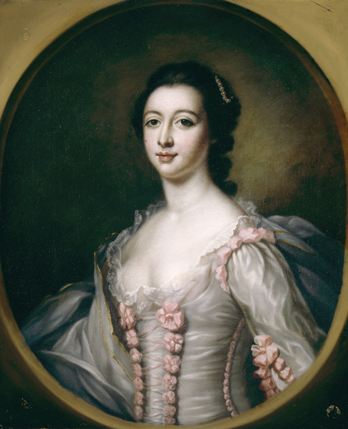 The five famous Gunning sisters were born in Hemingford Grey, Cambridgeshire, the daughters of genteel but impoverished Irish parents.  When the going got even tougher the family temporarily returned to Ireland but Mrs G had aspirations for her daughters, especially the devastatingly lovely Elizabeth and Maria.  Following the girls headlining debut at Viscountess Petersham's ball held at Dublin Castle in 1748 the family returned to England.  Elizabeth and Maria launched a brief career on the London stage, the first step to getting noticed in Georgian high society.  Their arrival created something little short of a phenomenon and every appearance they made saw crowds of swooning men and women in attendance.
The teenage sisters were presented at Court to George II in December 1750 and in little over a year they were both married.  Elizabeth to the 6th Duke of Hamilton and on March 5, 1752 19 year old Maria married George William 6th Earl of Coventry.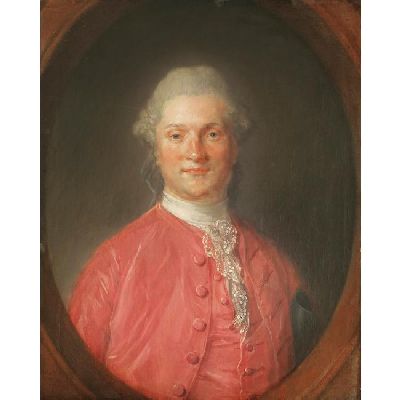 The marriage was not a particularly happy one; Maria was described as beautiful but rather silly, just how Frederick St John liked his women. Yes, Maria had dallied with the disreputable Frederick, 2nd Viscount Bolingbroke.
Maria and George had a son George William who became the 7th Earl and three daughters, Elizabeth Anne, Mary Alicia and Anne Margaret raised at the new family home Croome Court, a Palladian mansion in Worcestershire designed by Lancelot 'Capability' Brown.
Sadly it was Maria's preoccupation with her looks and her love of dangerous lead and arsenic based Georgian make up that eventually killed her in 1760.  Ten thousand people reportedly turned out to watch her funeral at St Mary Magdalene Church, Croome d'Abitot.
Four years later George was ready to take a second wife and married Barbara St John in September 1764.  Barbara was the fourth daughter of John St John, Baron St John of Bletsoe and his wife Elizabeth Crowley.
Barbara was no slouch in the beauty stakes herself as is evident from her portrait painted by Sir Joshua Reynolds around the time of her marriage.  Today the portrait is part of the Faringdon Collection and is on display at Buscot Park.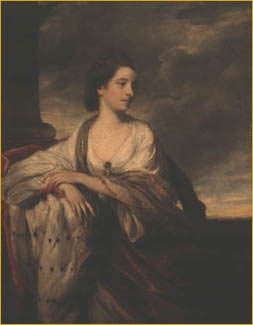 Other artists were keen to catch a likeness of the second Countess of Coventry and produced mezzotints in the style of Sir Joshua.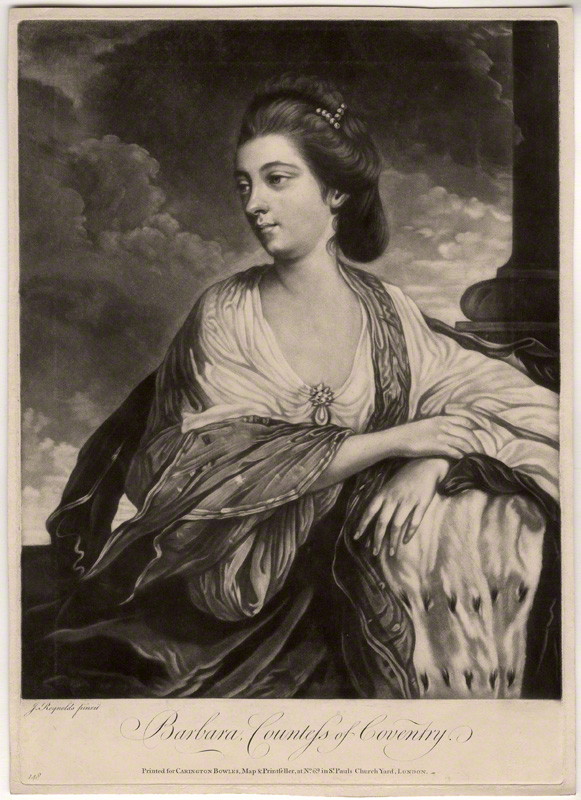 The Earl's second marriage was much more successful and in Barbara he found a soulmate, a meeting of like minds.  She was interested in birds and animals and George created a menagerie and a model dairy and farm for her.  Boating parties took place on the lake with firework displays to entertain their guests.
Two sons survived to adulthood, the Hon John Coventry and the Hon Thomas William Coventry.
Barbara died in 1804 and George five years later in 1809.