Elizabeth Felton was a chip off the proverbial Villiers's block. The only daughter of James 3rd Earl of Suffolk and his second wife Barbara Villiers, Elizabeth numbered two Royal mistresses among her first cousins alone, which by anyone's reckoning is quite a tally.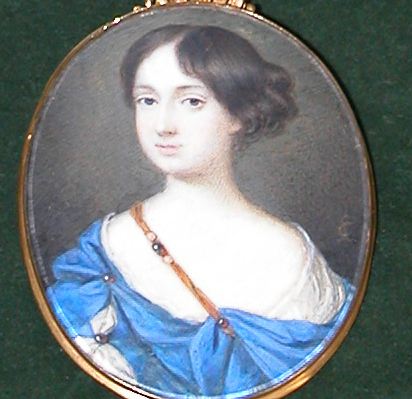 Aged just 15 years old the headstrong Lady Betty eloped with Thomas Felton, a Groom of the Bedchamber, much to the chagrin of her father.  Although the earl banished her from his home there's a hint that the blooming Lady Betty might have been just the tiniest bit spoilt.  Despite his fury at her impulsive marriage her father continued to cough up a substantial allowance enabling her to live in the manner she had been accustomed all her young life.
And Betty's arrival on the court scene soon made an impression.  'Madam Betty had a beauty and youth that were almost dazzling, and won her the love of all who saw her,' Marie Catherine Baronne D'Aulnoy writes in her memoirs of the Court of England in 1675. 'And being of a very gay disposition she seldom frightened her lovers away by her looks.'
Just how many lovers Lady Betty actually had remains unknown, but at least three of them were court headliners.
In 1678/9 Betty was the subject of a painting by Benedetto Gennari the younger for the Duke of Monmouth, the eldest illegitimate son of Charles II.  Apparently Betty found him amiable  while 'his rank agreeably flattered her vanity.' Their liaison was a bit of an on and off affair, whether due to their other amorous commitments or because of the famous Villiers temper Betty seems to have inherited.
Another of her lovers was William 4th Earl and 1st Duke of Cavendish.  Along with rebuilding parts of Chatsworth House, William is best remembered as one of the Immortal Seven nobleman who invited William of Orange and his wife Mary to reign in place of James II.  William receives a mention in some bawdy poetry of the day – sadly far too rude for repetition by this Good Gentlewoman.
The Ladies March written in 1681 records a procession of 23 Court ladies parading their wares and Lady Betty appears with another of her lovers, Francis Newport, second son of Francis Viscount Newport and his wife Diana Russell.
The next that followed in the rank
Was Betty Felton led by Frank,
Betty Felton lewd and pocky,
Lord have mercy on her jockey.
Betty also tried her hand at writing Ovidian poetry but apparently she wasn't very good at it, according to another of her lovers, libertine poet John Wilmot, 2nd Earl of Rochester. Betty along with John Wilmot and Barbara Countess of Castlemaine were cousins, great grandchildren of Sir John St John and his wife Lucy Hungerford.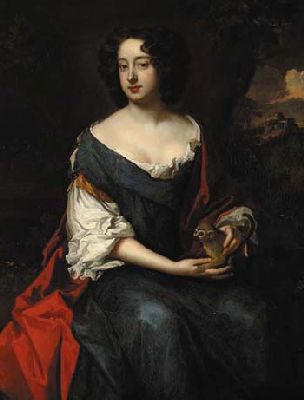 The lovely Betty died at the tragically young age of 25 'in a jealous apoplectic fit.' Her grieving father had her body interred in the Howard vault at St Mary's, Saffron Walden, where he joined her seven years later.