How does Maryland, one of the Thirteen Colonies on the Eastern seaboard that came together to form the United States, have a connection with the St John family from Lydiard Tregoze in Wiltshire?
Lady Charlotte Lee was born on March 13, 1678 (Old Style) at St James's Park at the house acquired for her parents by her grandfather Charles II. Her mother was Lady Charlotte Fitzroy, Charles's favourite daughter by his mistress Barbara Villiers, Countess of Castlemaine. Her father was Edward Henry Lee, 1st Earl of Lichfield. Charlotte, who was the eldest of some 20 children, was born when her mother was fourteen years old and her father fifteen.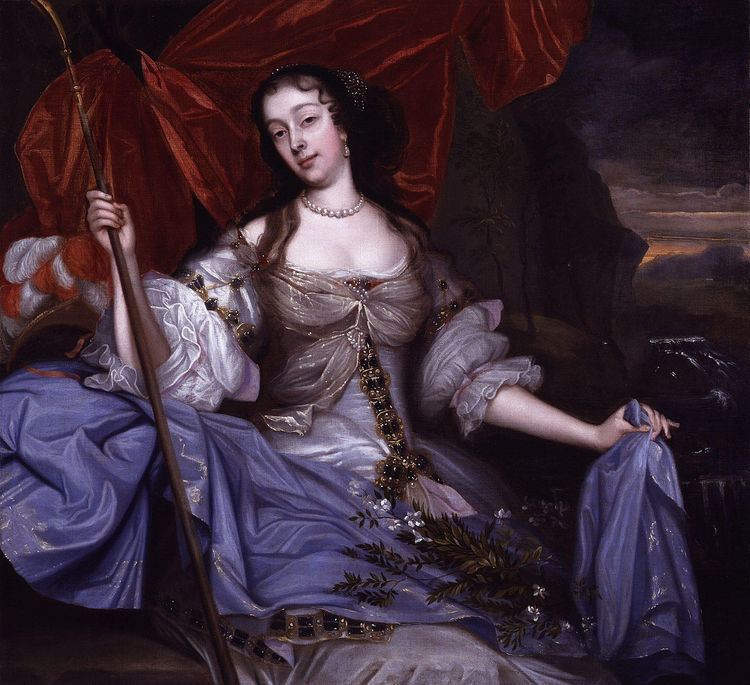 Many online sources describe this portrait as being of Lady Charlotte, but it is more reliably believed to be that of her grandmother Barbara Villiers, Countess Castlemaine.
In 1699 Charlotte married Benedict Leonard Calvert. It was his great grandfather, George Calvert, who founded Maryland as a safe haven for persecuted English Catholics in 1632. Cecil Calvert, 2nd Baron Baltimore (Benedict's grandfather) was granted a Charter for the new colony to be named Maryland in honour of Henrietta Maria, wife of Charles I.
However, the Calvert's lost their Maryland inheritance in 1688 when it became a Royal Colony following the events of the Glorious Revolution and the accession to the English throne of William and Mary.
Within a year of their marriage Charlotte had given birth to the first of at least six children, including a set of twins. In these still turbulent religious times Charlotte's father, the Catholic Earl of Lichfield, had endeavoured to steer his daughter along a purely Protestant path. However, after the birth of her first son in 1699 Charlotte converted to Catholicism.
Charlotte and Benedict separated in 1705 after an unhappy and abusive marriage. Salacious rumours circulated citing his cruelty and their mutual infidelities. It was said Charlotte had born a child in 1706 by her lover Colonel Robert Fielding, who was at the time bigamously married to Charlotte's grandmother Barbara, Countess of Castlemaine.
In 1711 Benedict's petition to Parliament for a divorce from Charlotte failed. He died four years later having only months before succeeded to the title of 4th Baron Baltimore on the death of his father. Having claimed her title of Lady Baltimore, Charlotte quickly remarried.
Her second husband was the entrepreneurial Christopher Crowe who held a diplomatic post in Italy while also acting as an agent acquiring works of art for the English nobility.
The couple married in Geneva in August 1715 but made their home at Woodford Hall, a property set in parkland with surrounding woods and farmland on the edge of Epping Forest. Charlotte had four children by her second marriage – Christopher, Catherine, Charlotte and George.
In a post nuptial agreement drawn up in 1719 Christopher declared the property in trust for his lifetime and after that to his wife the Rt Hon. Charlotte, Lady Baltimore for her lifetime but sadly Charlotte would only live another two years. She died at the age of 42, some sources say from rheumatism, others from arthritis.
In the 19th century Woodford Hall was the childhood home of poet and political activist and arts and crafts legend, William Morris. Demolished at the beginning of the 20th century the Woodford Parish Memorial Hall in Woodford High Road stands on the original site, next to St Mary's Church where Charlotte was buried in 1721.
The Maryland Colony was restored to the Calvert family's control by George I, and Charlotte's eldest son Charles inherited the title to Maryland aged just fifteen, on the death of his father and grandfather. He held the office of Proprietary Governor from 1732-1733.
In 1727 Charles appointed his younger brother Benedict Leonard Calvert (Charlotte's second son) Governor, an office he held until 1731. Leonardtown is named in his honour.
Charlotte's third son, Edward Henry Calvert held the office of Commissary General and President of the Council of Maryland and the Calvert/Maryland continued through to the next generation (more to follow).
But, have you worked out the St John, Lydiard Tregoze connection? Well actually there are two! On her maternal side Charlotte was the granddaughter of Barbara Villiers, Countess Castlemaine who in turn was the granddaughter of Barbara St John (d1672) of Lydiard Tregoze. Charlotte's father, Edward Henry Lee, was the grandson of Anne St John (1614-1696). Anne was Barbara's niece, the daughter of her brother Sir John St John 1st Baronet. A portrait of Barbara hangs in the State Bedroom in Lydiard House. Barbara also appears on the St John Polyptych in St Mary's Church and Anne is one of the kneeling figures on her parent's tomb. Both memorials were commissioned by Sir John.