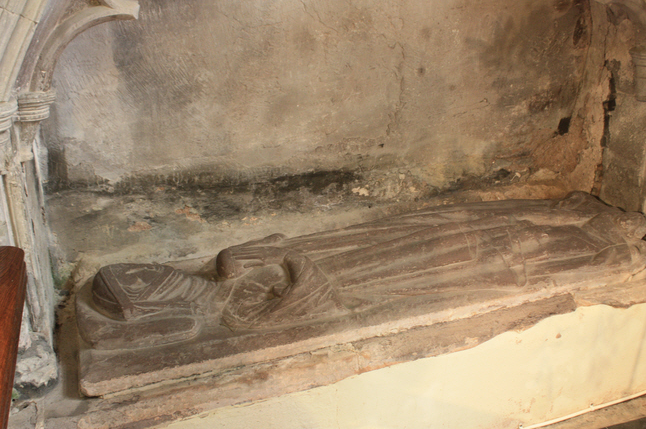 Set in a niche in the church of St Michael at Ewyas Harold is this magnificent effigy, a survivor from the late 13th/early 14th century. Images of this tomb appear on numerous online family trees variously attributed to Clarice de la Warre 1280-1321 and her aunt Sybyl Tregoz 1271-1334. However, the church attributes the tomb to that of an earlier Clarice de la Warre who was born in Ewyas Harold in about 1263 and died there before August 28, 1300.
Clarice married Roger la Warre, First Baron la Warre of Wicwar, Gloucester & Brislington in Gloucester on or before September 1276. Roger acted as adviser to Edward I and campaigned during the conquest of Wales in 1282, in Gascony in 1294-7 and during the English invasion of Scotland in 1300. He died in 1320 having outlived his wife Clarice by some twenty years.
So, who was Clarice and what is her connection to the Lydiard estate, I hear you ask as there surely must be one? The Lydiard estate came into the possession of the St. John family with the marriage of Margaret Beauchamp and Oliver St. John. c1428. During its long history the Lydiard estate has belonged to just five families – the St. John's, the Beauchamp family, the Grandison's and the Tregoz and Ewyas family, the property passing between the families down the female line.
Clarice was the elder daughter and coheir of John Tregoz, Lord Tregoz of Ewyas Harold, by his first wife Mabel Fitzwarren. Clarice inherited half of the Barony of Ewyas Harold with her sister Sibyl, the wife of William Grandison.
The tomb is noteworthy for several reasons. Firstly, there is a chamber beneath the effigy for the burial of the heart, apparently a rare, medieval feature. Although a married woman at the time of her death, the headdress suggests that Clarice had taken a vow of chastity, so does this cast doubt on the identity of the woman. Well, who knows what goes on behind closed bedroom doors and Roger had been away quite a bit during their married life. And we have to remember that Margaret Beaufort also took a vow of chastity during her marriage to Thomas Stanley.
Hopefully, the effigy is correctly identified as Clarice de la Warre, in which case we have a representation of the one of the first women to jointly own the Lydiard estate. If you would like to know more about the others you might like to read The Ladies of Lydiard.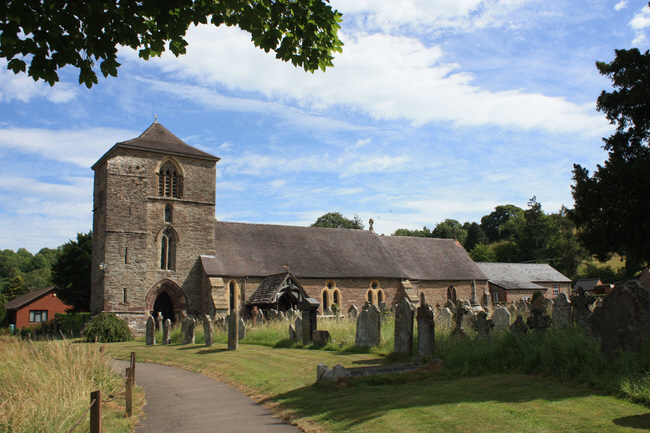 St Michael's Church, Ewyas Harold