When Horace married Elizabeth they tied the knot 'at half past seven by owl light.' Now doesn't that sound magical – I shall definitely be using that phrase at every possible opportunity in the future.
The young aristocrats married on May 15, 1818 at that celebrity church, St George's in Hanover Square. According to Lady Charlotte Williams-Wynn the wedding party had something of a wait as the Bishop of Gloucester was locked in the House of Lords for a division.
Perhaps the guests gathered beneath the portico, watching the rich and famous enjoying an evening promenade along St George's Street. Or maybe they took a stroll down to the gardens to pass the time.
Set in the very heart of fashionable London, St George's, built in 1721-25 has been ever popular for society weddings and in 1816 there were 1,063. The first wedding to take place in the new church on April 30 1725 was between David Williams and Sarah Thomas. Flipping through the pages of the registers reveal some notable names. For example, on September 8, 1757 John Calvert married Elizabeth Hulse, the only daughter of Sir Edward Hulse, physician to Queen Anne, George I and George II.
And on July 22, 1765 the Rt Hon William Lord Viscount Folkestone, later to be 1st Earl of Radnor, married his third wife Anne, Lady Dowager Feversham. His grandson, William Pleydell Bouverie, 3rd Earl of Radnor would marry Judith Anne St John Mildmay in 1814 a distance relative of Elizabeth Malet Palk.  Thereon in the registers are peppered with the great and the good, including a few more St Johns.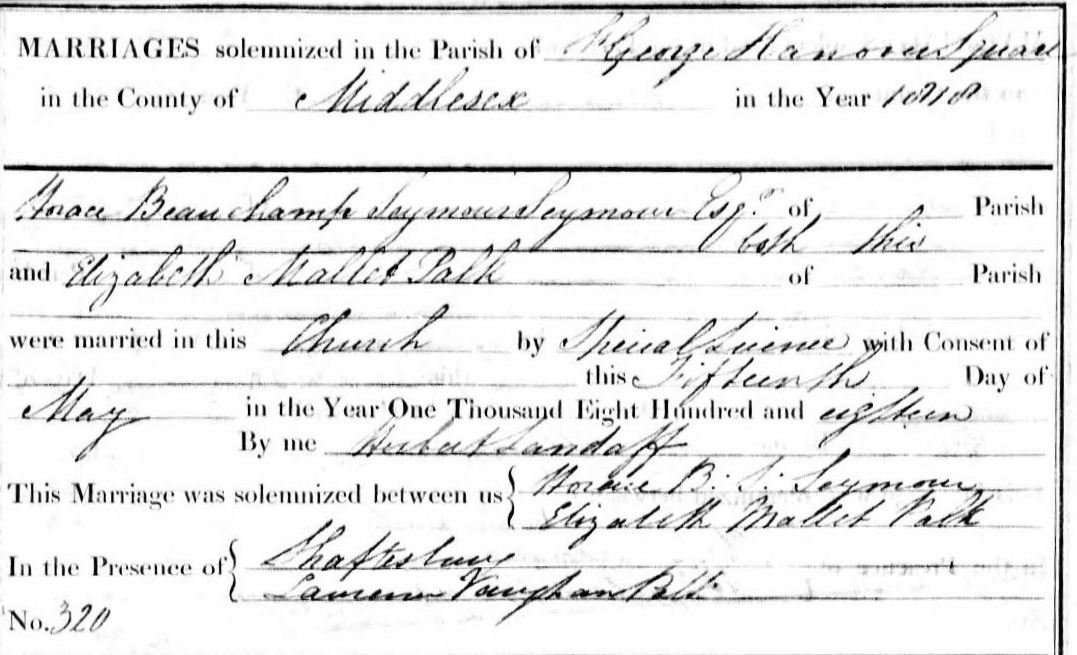 Horace was born in 1791 the younger son of Admiral Lord Hugh Seymour and his wife Lady Anne Horatia Waldegrave. Following the death of his parents Horace was placed with his uncle Lord Hertford who guided him through a military and political career. Horace served as a gentleman usher to the prince regent from 1818-1820 and also from 1820-30 following the princes' accession to the throne. He then served as a gentleman usher to William IV from 1830-31 followed by service as an equerry 1832-7. He continued service in the reign of the newly crowned Queen Victoria.
The young cavalry officer fought bravely and was said to have killed more men than anyone else at bloody Waterloo, receiving several promotions during that year, rising to the rank of Lieutenant Colonel.
Elizabeth was one of eight children born to Sir Lawrence Palk, 2nd Baronet and his second wife Lady Dorothy Elizabeth Vaughan. Like several of her siblings, Elizabeth bore the middle name Malet, reference to her noble ancestors, including another Elizabeth Malet, wife of the notorious John Wilmot, 2nd Earl of Rochester.
At the time of her marriage Elizabeth was living at Suite II, the Secretary of War's Lodgings at Hampton Court Palace overlooking Base Court. These Grace and Favour apartments were allocated at the discretion of the reigning monarch to those who had performed a great service to the Crown. Some families had a stranglehold on these hugely desirable residences, among them the extended Seymour family.
Elizabeth's first child, Charles Francis, was born on September 13, 1819 at Rendlesham Hall in Suffolk where the couple were visiting Lord Rendlesham. The child was christened the next day, perhaps because he was not expected to survive. The couple's next two children were born at their London home 23 Bruton Street, just a few doors up from where Elizabeth II was born. Frederick Beauchamp Paget Seymour born 1821 and his sister Adelaide Horatia Elizabeth born four years later were both christened at St George's, Hanover Square.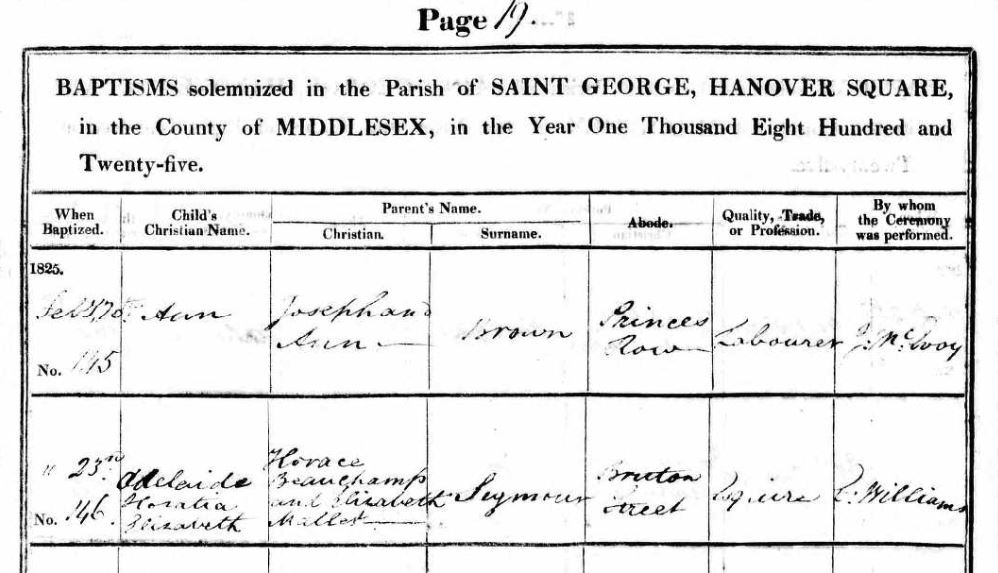 Their fourth child was born in the suite of rooms at Hampton Court Palace that Elizabeth had occupied for so many years. The week old baby girl was christened Gertrude Elizabeth at the parish church of St Mary's, Hampton on January 20, 1827 – just two days after her mother's funeral service was held in the same church.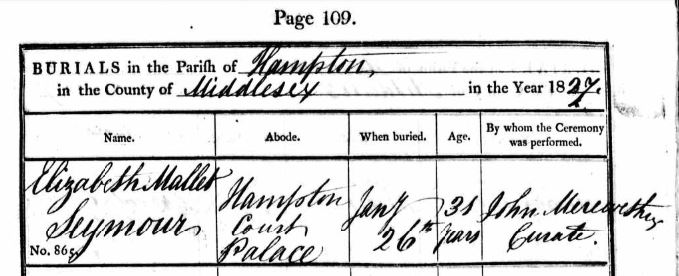 The apartment apparently remained in the Seymour tenure as this is where little Gertrude died two years later.  The entry in the parish registers notes that she was buried in a private vault in the church, perhaps reunited with her mother.
Horace continued to lived at Hampton Court Palace and this amusing anecdote is recalled in Factsheet 'Grace and Favour' at Hampton Court Palace Suffragettes, Soldiers and Servants 1750 – 1950 Exhibition
Sir Horace Beauchamp Seymour (1791-1851) a single, dashing, former Battle of
Waterloo war hero moved into the palace in 1827. A spate of 'fainting' episodes
followed in the Chapel Royal during the services, where the strategically placed
'helpless' victims managed to fall into his arms. After the third successive
Sunday of fainting fits, the epidemic was brought to a halt by his aunt, also a
resident, who pinned a note to the Chapel door warning any other would-be
sufferers that Branscombe the Dustman would henceforth be carrying them out
of the Chapel Royal! By the following Sunday the faintings had ceased.
There's something about Horace that's just a bit – I don't know, objectionable, don't you think? In 1835 he married Frances Poyntz, sister of Georgiana Poyntz wife of Frederick, 4th Earl Spencer. Charles 9th Earl Spencer writes about this marriage in his authoritative book The Spencer Family.
'Aunt Fan' was known for her looks and her lack of intelligence. Although she adored Sir Horace, he had married her only to pay off his debts. He never concealed that fact from her and, as soon as the wedding service was over, he retired to his gentleman's club to resume his bachelor existence. Sir Horace's sister, a Mrs Damer, was so appalled by his behaviour that she immediately went to a jeweller's and bought an emerald and diamond halfhoop ring, which she gave to her new sister in law, claiming it was from Seymour. 'Aunt Fan' never knew otherwise.
See what I mean?
Of Elizabeth's three surviving children eldest son Charles, Lieutenant Colonel in the Scots Fusilier Guards, was killed in action at the Battle of Inkerman; second son, Admiral Frederick was a British Naval Commander and created Baron Alcester in 1882.  And in a strange twist of marital fate Horace and Elizabeth's daughter Adelaide Horatia Elizabeth became the second wife of Frederick Spencer, 4th Earl Spencer. Her 2x great granddaughter was Diana Frances Spencer, later Diana, Princess of Wales.
The ancestry of Elizabeth Malet Seymour can be traced back to Anne Leighton who married John St John in 1604 and lies buried in the family vault at St Mary's Church, Lydiard Tregoze.