There appears to have been some confusion concerning the portraits of the three Molesworth sisters in the Springhill collection, County Londonderry.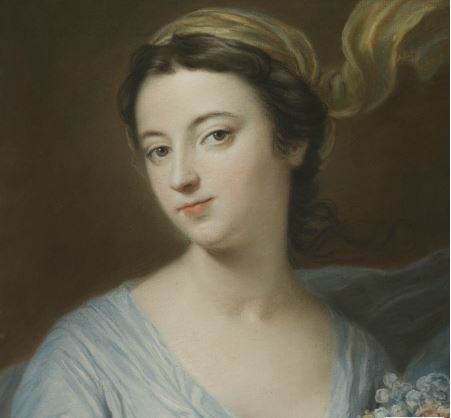 This portrait is catalogued as being of the Hon Louisa Molesworth, Lady Ponsonby, later Countess Fitzwilliam who was born in 1749 and died in 1824. However it is now thought to most probably be a portrait of her elder sister Henrietta, later the Hon Mrs John Staples, who was born in 1745.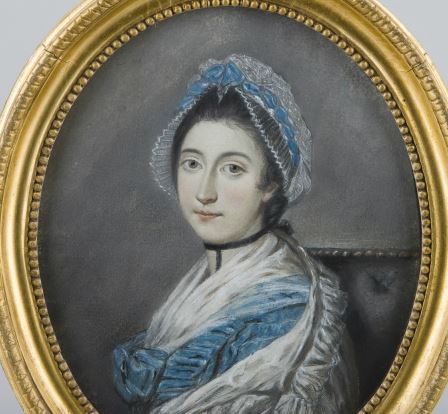 And this one called Louisa Staples, Lady Pakenham is now believed to be that of Elizabeth Molesworth born in 1751, the wife of James Stewart, Henrietta and Louisa's younger sister.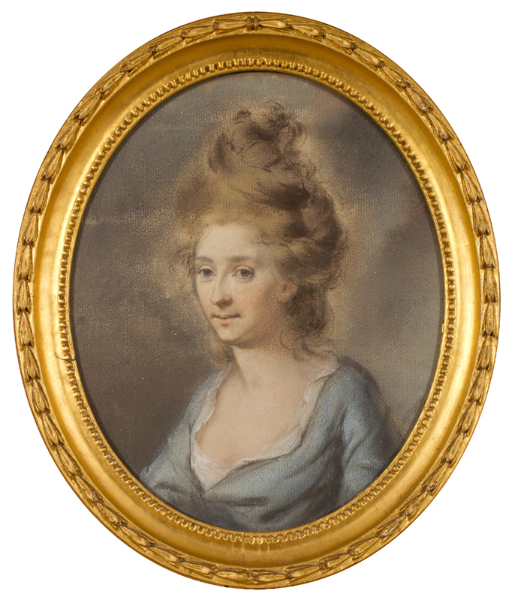 A third portrait in pastel and graphite, supposedly of Louisa, has confusing inscriptions written on the back in two different hands, causing some doubt as to the sitter.
In recent years the identity of these three women has become confused, which is somewhat surprising as during their lifetime they were remembered as the survivors of a terrible family tragedy.
Henrietta, Louisa and Elizabeth Molesworth were the daughters of Richard Molesworth, 3rd Viscount Molesworth and his second wife Mary Jenney Ussher. Richard Molesworth was an Anglo Irish nobleman and politician who held extensive lands in Limerick. He had enjoyed an illustrious military career, serving alongside the Duke of Marlborough at the Battle of Blenheim in August 1704 and was the Duke's aide de camp during the War of the Spanish Succession two years later. Made Master General of the Ordnance in Ireland in 1740 Richard later became Commander in Chief of Ireland in 1751.
His wife, Mary Jenney Ussher, more than 45 years his junior, was the daughter of Rev. William Ussher, archdeacon of Clonfert. When the couple married in 1743/4 Mary was little more than 15, her husband 64 years old.
The couple's first child, a daughter Mary, was born on September 24, 1744 and lived for just one day. The following year another daughter Henrietta, was born, followed by Melesina in 1746, Mary in 1747, a son and heir Richard Nassau Molesworth in 1748 followed by Louisa in 1749, Elizabeth in 1751 and Charlotte born in 1755 who died in 1757 aged 2 years old. The children were all born in Dublin, most probably in the family's town house, 14 Henrietta Street.
The 3rd Viscount died in 1758 and in 1763 the family was in residence in London at No 49 Upper Brook Street, Hanover Square.
In the first week of May 1763 the house was full with family, servants and visitors, among them Lady Molesworth's brother Royal Naval Commander Arthur Ussher and Dr Molesworth and his family. Only the young heir, 15 year old Richard, was away from home, studying at Westminster School.
In the early hours of May 6, 1763 fire broke out. An extract from a letter dated London 7th May 1763 was published in Faulkner's Dublin Journal and gives a vivid description.
"It is with the utmost horror that I relate to you the dismal catastrophe which befel poor Lady Molesworth and her family yesterday morning about 5 o'clock, when a fire suddenly broke forth in her house by the carelessness of a servant in the nursery, in which she herself, two of her daughters, her brother, who was Capt of a Man of War, the children's governess and two other maid servants perished. The other three daughters are indeed not consumed, but scarce in a condition preferable, the eldest jumping out of a 2nd floor window was caught upon the iron palisades, which tore her thigh so miserably that the surgeons were obliged to cut it off directly four inches above the knee."
The report continued:
"The Hon Coote Molesworth and his wife, who, unluckily for them, happened to be her guests, have escaped. He had the presence of mind to throw his bedding out of the back windows, upon which his wife and two children fell, otherwise they must have been dashed to pieces, for the children came from the garret down to the back area, no less than four stories high. Mr Molesworth hung by an iron on the outside of the two pair of stair windows, till a neighbouring carpenter brought him a ladder. – List of saved; Lord Molesworth, fortunately at school; Miss Harriet's [Henrietta] thigh cut off, and the other leg much torn with spikes; Miss Louisa thigh broke, near hip, but set and hopes of cure without amputation; head cut but not fractured. Mr & Mrs Molesworth, Miss Betty much bruised and scorched. Perished; Lady Molesworth; Miss Melesina; Miss Molly, Capt. Usher; Mrs Moselle, governess to the children; Mrs Patterson, Lady Molesworth's woman; the young ladies maid, Capt Usher's man, who got out, but perished by returning to save his master; and two black footman."
That man of letters, Horace Walpole, wrote of the disaster to the Hon H.S. Conway.
"I must change this tone, to tell you of the most dismal calamity that ever happened. Lady Molesworth's house, in Upper Brook Street, was burned to the ground between four and five this morning. She herself, two of her daughters, her brother and six servants, perished. Two other of the young ladies jumped out of the two pair of stairs and garret windows: one broke her thigh, the other (the eldest of all) broke her's too, and has had it cut off. The fifth daughter is much burnt. The French governess leaped from the garret, and was dashed to pieces. Dr Molesworth and his wife, who were there on a visit, escaped; the wife by jumping from the two pair of stairs, and saving herself by a rail; he by hanging by his hands, till a second ladder was brought, after a first had proved too short. Nobody knows how or where the fire began, the catastrophe is shocking beyond what one ever heard; and poor Lady Molesworth, whose character and conduct were the most amiable in the world, is universally lamented. Your good hearts will feel this in the most lively manner."
News of the tragedy reached the King who provided the surviving sisters with a fully furnished house at his expense. He made them a 'handsome present' and continued the pension previously settled on their mother, increasing it by £200 a year.
It is impossible to imagine how these girls coped with the trauma and the horrific injuries they sustained.
Yet all three went on to marry, Louisa twice, the second time when she was 73, and all three raised large families and lived long lives. Henrietta died in 1813 aged 68, Louisa was 74 when she died and Elizabeth was 83 years old when she died in 1835.
This is one of the more poignant stories to come from the extended St John family files. The three surviving Molesworth sisters were the great great granddaughters of Nicholas St John and his wife Elizabeth Blount whose monument stands in St Mary's Church, Lydiard Tregoze. The girls' descent is traced through the marriage of Nicholas and Elizabeth's daughter Elizabeth who married Richard St George.
And the girls' uncle, Major Edward Molesworth, their father's brother, is the 5 x great grandfather of Sophie, Countess of Wessex, wife of Prince Edward.