In her book Cavalier – The Story of a 17th century Playboy – Dr Lucy Worsley describes the three Cavendish sisters as 'truly extraordinary seventeenth century women.'
Jane, Elizabeth and Frances Cavendish were the daughters of William Cavendish 1st Duke of Newcastle and Elizabeth Bassett.  The sisters grew up at Welbeck Abbey, a former monastery in Nottinghamshire; a home they would courageously defend during the English Civil Wars.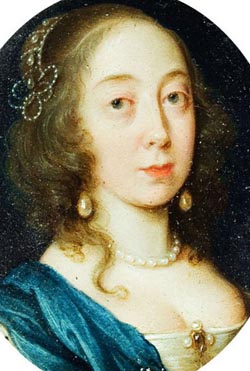 A nobleman at the court of James I and friend of his son Charles when it came to war, William Cavendish was fearless – up to a point. William was in command of Royalist troops in the north of England, but following the Royalist defeat at Marston Moor in July 1644 he fled to the continent, in terror – of being mocked!
Taking his sons and a few servants he abandoned the Royal garrison at Welbeck Abbey, leaving his home, his money and his possessions to the care of his three daughters. The three young women had only recently lost their mother but these great granddaughters of the formidable Bess of Hardwick were well up for the challenge.
Marston Moor proved to be the turning point of the war; the Parliamentarian army was now on a triumphant trajectory, and within weeks of the battle Cromwell's men, headed by the Earl of Manchester, were knocking at the door of Welbeck Abbey.  The Royalist soldiers marched out and the Parliamentarians marched in.  They were to occupy the house for a year, during which time the three sisters protected the family silver and juggled the absent Duke's finances, even sending money to fund his self-imposed exile.
Welbeck was retaken by Royalist troops on July 16, 1645 when fierce fighting took place in the Abbey grounds.  But the three sisters continued to write loving letters to their father, who now had a feisty new wife Margaret, and showed no signs of returning to Welbeck.  Writing was to be a great consolation to the three women.  They collaborated on plays and poems, which today provide a unique insight into their plight during the civil war.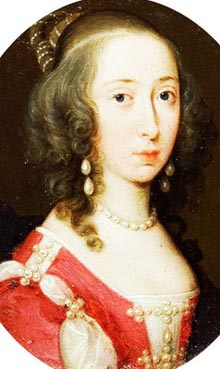 Middle daughter Elizabeth had been married off to John Egerton, 2nd Earl of Bridgewater, at the tender age of 14 when the country was poised on the precipice of civil war.  Her sisters would have to wait until the conflagration was over before they settled down.
Jane married Charles Cheney, Viscount Newhaven in 1654; in the same year Frances aligned herself with the Parliamentarian St Johns when she married Oliver St John, 2nd Earl Bolingbroke at Pitstone, Buckinghamshire on November 24, 1654.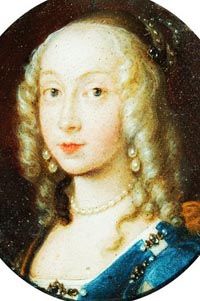 Elizabeth died in childbirth in 1663.  Her tenth child, a son, was born dead.  Her funeral was reportedly 'attended by Nine Mourning Coaches with Six Horses apiece; filled with the Children, & other neere Relations, & accompanied by an Extraordinary great number of the Nobility, & many of the Gentry about London, in their coaches, & waited on by her Servants & other Mourners on horseback, her coronet being carried before her by one of the officers.'
She was buried at St Peter & St Paul's Church in Little Gaddesden, Hertfordshire where her grieving husband erected a magnificent memorial.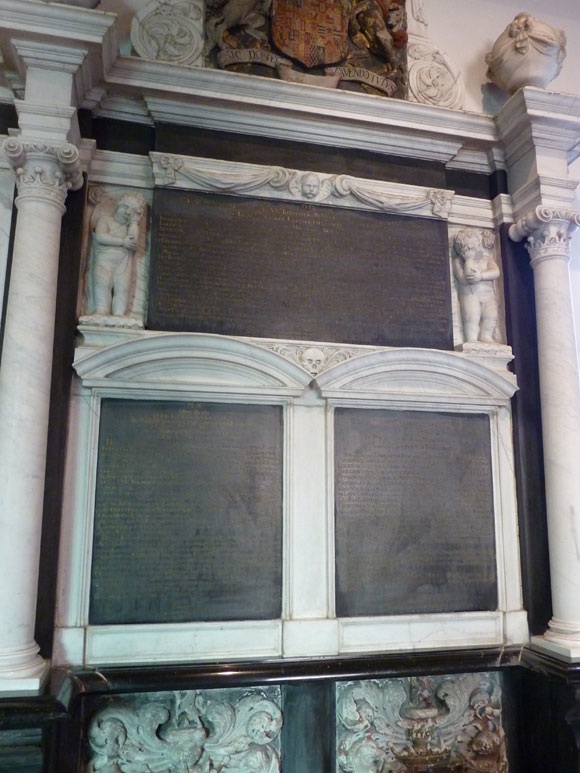 Jane developed epilepsy in 1668 and died on October 8, 1669.  She was buried at All Saints Church, Chelsea where an equally impressive memorial was erected.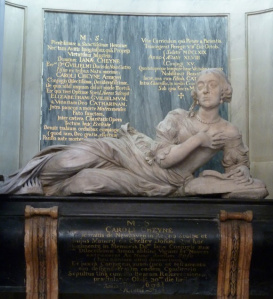 Frances and Oliver St John had no children during their 24 years of marriage.  On his death in 1688 Oliver's titles and estate went to his brother Paulet.
The couple lived at Bletsoe Castle in Bedfordshire where Frances died on August 15, 1678.  She was buried in the parish church at Bletsoe where Oliver erected this memorial.  The tablet on the left side was left blank, presumably for a suitable inscription when Oliver died, but apparently no one ever got around to writing his epitaph.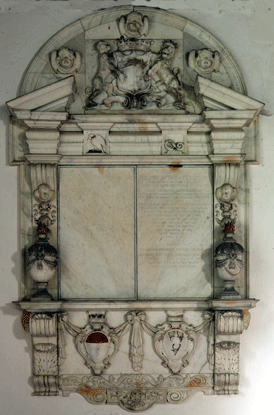 As in life, so in death the three Cavendish sisters left their mark.