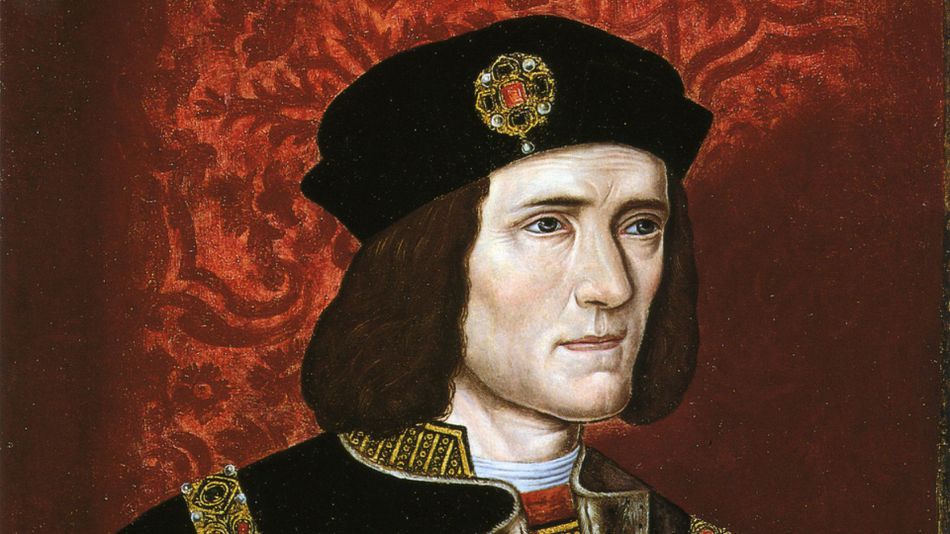 When the remains of Richard III were found beneath Greyfriars Car Park, Leicester in September 2012 many had great and perhaps unrealistic expectations.  Some hoped his skeleton would show a straight spine, quashing the Shakespearean caricature.  But sadly Richard did indeed suffer from scoliosis. And his remains were unable to redeem his character either, no matter how much members of the Richard III Society wished that they could, and there is still little doubt that he was responsible for the murder of his young nephews – the Princes in the Tower.
A reconstruction of his skull and facial features reveal a remarkable similarity to the 15th/16th century portrait that hangs in the National Portrait Gallery.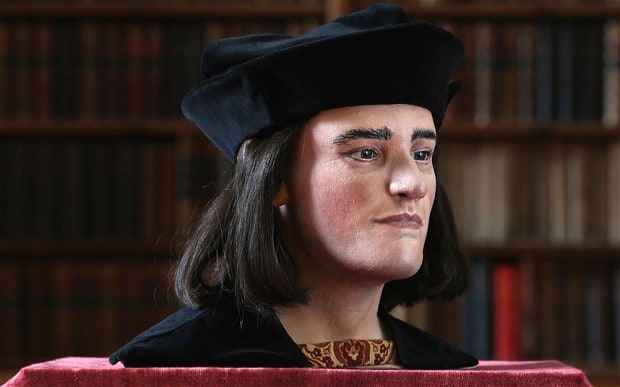 And me, well I hit the genealogy trail in the anticipation that he would be connected to the extended St John family and I for one wasn't disappointed.
Richard III's niece Elizabeth of York married the man who defeated and succeeded him, Henry VII.  Henry Tudor was the grandson of Margaret Beauchamp whose first husband was Sir Oliver St John.  But I knew all this already – I was sure there must be another link, and of course there was.
Joan Beaufort was born in about 1379. The date and place of her birth remain up for debate, probably because she was one of several illegitimate children born to John of Gaunt, 1st Duke of Lancaster, and his mistress Katherine Swynford.
Katherine had initially been employed as governess to John's daughters Phillippa and Elizabeth – and then … well you know how these things happen?
It is believed that Joan was probably born at Kettlethorpe Hall, Lincolnshire, a property owned by her mother's first husband Sir Hugh Swynford. But then she might also have been born at Beaufort Castle on her father's French estate.
When she was about ten years old Joan and her three brothers were declared legitimate by their cousin Richard II. John of Gaunt made sure there was no misunderstanding and got the seal of Parliamentary approval in 1397 as well. And then just to make jolly well sure, he married their mother in Lincoln Cathedral on January 13, 1396 with papal approval.
It is likely Joan spent her childhood in France where in 1391 she was married off to Baron Sir Robert Ferrers.  Joan was widowed with two daughters before she reached the age of 16.  On February 3rd 1397 she married Ralph de Neville, 1st Earl of Westmorland, who had also been married once before.
Joan had fourteen children by this second marriage. Four sons died young but the rest of the children made advantageous marriages. Daughter Lady Cecily Neville married Richard 3rd Duke of York and was the mother of two kings, Edward IV and the recently discovered Richard III.
The Beaufort descendants played a major role in the War of the Roses, a period of tumultuous upheaval in Britain.  With more contenders for the throne than you could shake a stick at, the warring cousins juggled the crown jewels between them during a thirty year period.
But this is only one thread in the St John genealogical tapestry.  Joan's brother was John Beaufort, 1st Earl of Somerset and it was his son, John 1st Duke of Somerset, who married the widowed Margaret Beauchamp, Lady St. John.  Their daughter was the saintly Margaret Beaufort, who like her great aunt Joan was married off young. The son she bore when little more than a child herself, went on to become Henry VII, the first of the Tudor monarchs and married his third cousin, Joan Beaufort's great granddaughter.
Joan died on November 13, 1440 at her Yorkshire home in Howden.  She was entombed next to her mother in the Katherine Swynford chantry close to the High Altar in Lincoln Cathedral.
Oh and by the way, more than 350 years later, on May 23, 1804 Lady Joan's descendant, Lady Sarah Sophia Fane, daughter of the 10th Earl Westmorland married the 5th Earl of Jersey, George Child Villiers, another St John descendant – more follows about this Good Gentlewoman.