In the 1660s the war torn medieval castle of Dromana high above the River Blackwater in County Waterford commanded stunning views across oak woodlands.  The vast estate had been the seat of the Fitzgerald family for more than four hundred years and when Sir John Fitzgerald died without a male heir in 1664, all eyes were on his three year old orphaned daughter Katherine.
Katherine became first the ward of Charles II and then of her ambitious uncle Richard Le Power.  Keen to extend his land holdings and increase his wealth, Baron Le Power married Katherine to his son John. The ceremony was performed by the Archbishop of Canterbury Gilbert Sheldon in his chapel at Lambeth Palace on May 20, 1673.  Katherine was just short of her 13th birthday and her groom was eight years old.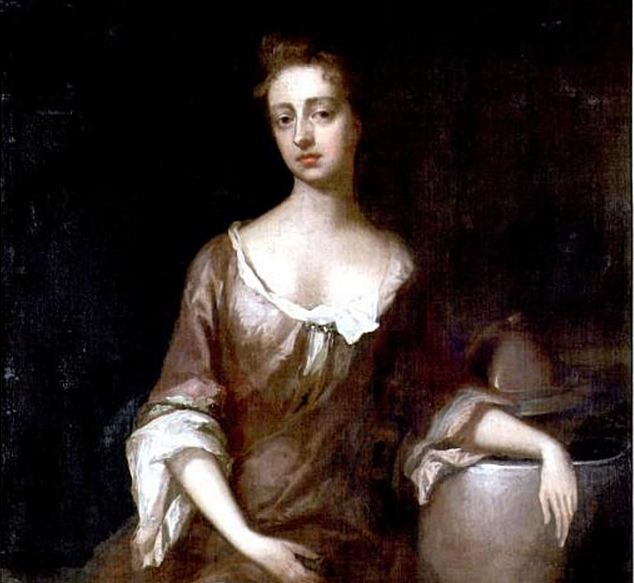 But Katherine was no pushover.  Two years later, still only 15 years old, she appealed to the Archbishop for an annulment, citing that she had been married against her consent due to 'immoderate importunity, threats, fear and the false suggestion of losing her estate.' Power's father in law, Lord Anglesey, who had been instrumental in arranging the marriage, described Katherine as a 'jadish viper, fair flirt, wicked urchin,' in other words – a girl who would not be messed with. 
And two years after this she eloped with the man of her choice dashing guardsman Edward Villiers, eldest son of George Villiers, 4th Viscount Grandison of Limerick, who would rise to the rank of Brigadier General in The Queen's Bays.
The Grandison title had come into the Villiers family via the marriage of Edward's grandparents, Sir Edward Villiers and Barbara St John, one of the six daughters of Sir John St John and Lucy Hungerford of Lydiard House.  The viscountcy was created in 1620 for Sir Oliver St John, Lord Deputy of Ireland, with special remainder to the male issue of his niece Barbara.  First to inherit the title was Barbara's eldest son William, father of the Royal mistress Barbara, Countess of Castlemaine.  Upon his death in 1659 it went to her second son John who died in 1659 when Barbara's third son became 4th Viscount Grandison.
Edward and Katherine had six children, Mary, Katherine, Harriott, Elizabeth, William and John who became the 5th Viscount and 1st Earl Grandison. Following Edward's death in 1693 Katherine set about providing for herself and her children.  In a letter to the Rt Hon Thomas Keightley, Vice Treasurer of Ireland, Katherine accuses Lord Grandison and the Villiers family of ill treatment. In a direct challenge to her father in law, George 4th Viscount Grandison, plucky Katherine obtained a patent from King William granting her the privilege to enjoy the same title and precedence 'as if her husband had survived his father.'  Through a private act of parliament Katherine established her rights, provided for her younger children and regulated the descent of the family estates.
Having secured her family's fortune, Katherine married again.  Her third husband was William Steuart, MP for Waterford, Privy Councillor in Ireland and commander in chief of the army during the Duke of Ormonde's absence.
Katherine died in 1725 aged 64 according to some accounts, insane.  She was buried in Westminster Abbey with other members of the Villiers family.  Her last husband William joined her there a year later.