Don't you just love the St John women – intelligent, feisty, and brave? From Anne St John, Countess of Rochester who juggled her estates, protecting her family fortunes during the English Civil War, to Anne Douglas, Lady Dalkeith who laid her life on the line to protect baby Princess Henrietta Maria, the 17th century St John women showed their mettle.
And here is the story of another, earlier, Anne – Anne Clifford, whose ancestry can be traced back to two St John women on both the maternal and paternal sides of her family.
In 2013 a lost portrait of Anne was discovered in a private European collection and purchased by the National Portrait Gallery – but the story of Anne is far from lost and her name appears in scholarly works and books by eminent historians such as Professor R.T. Spence and Lady Antonia Fraser.
Anne was born on January 30, 1590 at Skipton Castle, Yorkshire, the Clifford family seat. As the third child and only daughter of George Clifford, 3rd Earl of Cumberland, and his wife the former Lady Margaret Russell, Anne's future was pretty much mapped out for her.
However with the death of her two elder brothers Anne became heiress to the title Baroness Clifford suo jure and extensive land and property in the north of England – but claiming her inheritance would be far from plain sailing.
The death of their two sons coupled with the de rigueur bad behaviour of the 3rd Earl, saw Anne's parents drift apart and for much of her childhood the couple lived separately. Anne grew up with her mother's family at the great Russell owned mansions Chenies in Buckinghamshire and North Hall in Northaw and was at the very centre of court life. When the Queen died in 1603 thirteen year old Anne wrote in her diary:
'When the corpse of Queen Elizabeth had continued at Whitehall as long as the Council had thought fit, it was carried from thence with great solemnity to Westminster, the Lords and Ladies going on foot to attend it, my mother and my aunt of Warwick being mourners, but I was not allowed to be one, because I was not high enough, which did not trouble me then, but yet I stood in the church at Westminster to see the solemnity performed.'
 Surrounded by her intellectual relatives and all the big names on the 17th century arts scene, Anne grew up well educated.Throughout her lifetime she was a great reader with Chaucer a particular favourite. Anne could also be found swotting up on Turkish history and there was nothing she enjoyed more than being read to.
But then in 1605 her father died and Anne's long battle to secure her inheritance began.
In his will George Clifford left his daughter a useful £15,000 portion but the extensive estates in the north he bequeathed to his brother Francis.
Anne's mother, Lady Margaret, rapidly took up the legal cudgels on behalf of her 15 year old daughter and secured occupancy of the Skipton properties, although Francis retained possession of these and the rest of the estates. It would take more than 40 years of litigation and the death of Francis and his son Henry, before Anne could claim her rightful inheritance.
Before that she weathered two pretty unhappy marriages. The first to Richard Sackville, Earl of Dorset in 1609 who was dubbed 'one of the 17th century's most accomplished gamblers and wastrels.' The couple had five children, three sons who died young and two daughters.
Dorset was openly unfaithful to his wife and even brought his mistress, Lady Penistone, to live at the family home of Knole House.
Even worse, Dorset involved himself in Anne's inheritance battle, complicating the situation and winding up Anne at the same time. In 1615 the couple were told they could either have the Skipton and Westmorland estates or the £15,000 portion but not both. Dorset's interference led to all the estates going to Francis and his male heirs while Anne received £17,000 in compensation which Dorset promptly snaffled.
Despite an injection of wealth on the death of Dorset in 1624 life didn't get any easier.
The first thing Anne did was to buy from the crown the wardships of her two daughters Margaret and Isabella before securing her own future with a marriage to Charles I's Lord Chamberlain, Philip Herbert, Earl of Mongomery and Pembroke in 1630.
Now in her forties Anne was not prepared to stand for any nonsense and as soon as he started with the 'I want Skipton Castle …' malarkey she left him to it. Taking her younger daughter Isabella with her, Anne divided her time between Pembroke's Wiltshire homes until the outbreak of the Civil War, by which time he had moved across to the Parliamentarian side and needed her to guard his treasures at his London home, Baynard's Castle.
Following Pembroke's death in 1649 Anne spent her last years doing – well, exactly what she wanted to. She restored numerous castles on her estates between which she progressed with royal like splendour. She built properties and almshouses for her retainers and commissioned works of art and monuments. A generous friend she bought books in bulk, mainly of a devotional nature, to give as presents.
Anne died on March 22, 1676 in Brougham Castle aged 86 – one of the wealthiest noblewomen of her time – and was interred in St Lawrence Church, Appleby.
The recently recovered portrait was painted by William Larkin in about 1616 when Anne was 26/28. Anne's description of herself – 'The colour of mine eyes was black like my father's and the form and aspect of them was quicke and lively like my mother's. The hair of my head was brown and very thick … with a peak of hair on my forehead and a dimple in my chin' was one of the contributory factors when it came to identifying the portrait.
On her paternal side Anne's 3x great grandmother was Anne St John, the daughter of Sir John St John and Alice Bradslaugh. Sir John was the elder son of Oliver St John and Margaret Beauchamp and headed the senior, Bletsoe branch of the St John family. He was half brother to Margaret Beaufort and therefore uncle to Henry VII.
On her maternal side Anne's grandmother was Margaret St John, the daughter of Sir John St John and Margaret Waldegrave. This Sir John was the grandson of Sir John and Alice – I know, it's tricky keeping tabs on everyone.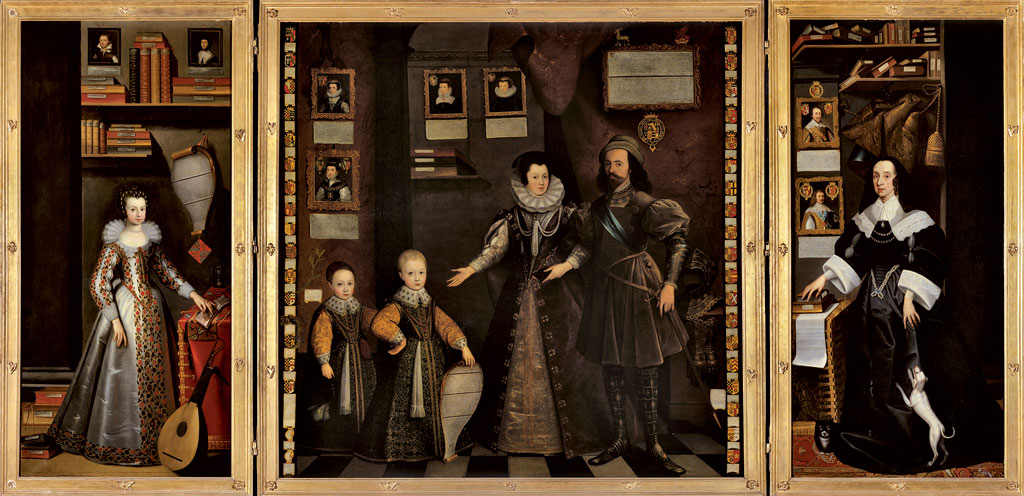 The Great Picture tells of Lady Anne's family history and was commissioned by her in 1646. It hung in Appleby Castle for more than 300 years and today is on show at Abbot Hall Art Gallery.Visit the website to learn more about the picture.
In 1615 St John St John 1st Baronet of Lydiard House, Wiltshire commissioned something very similar to commemorate his family history. The polyptych in St Mary's Church, Lydiard Tregoze, will be open on the weekend of July 25 and 26 to celebrate its 400th anniversary.
For more about the history of Lydiard House see Status, Scandal and Subterfuge.