When Jane married Sir Henry Paulet St John in 1786 he got more than he bargained for – a fortune and a new surname.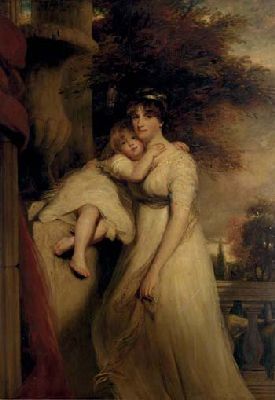 Henry, the son of Sir Henry Paulet St John 2nd Baronet and his wife Dorothea Maria Tucker, was born at Dogmersfield Park, the site of a medieval palace with an 18th century manor house built by Sir Henry's grandfather Paulet St John, 1st Baronet.  This branch of the family belonged to the St John's of Farley Chamberlayne, Hampshire.
Born in 1764 Jane Mildmay was the eldest of Carew Mildmay and Jane Pescod's three daughters.  Thanks to her wealthy (and childless) great uncle Carew Hervey Mildmay, Jane inherited her childhood home of Shawford House in Hampshire, plus estates in Essex and Somerset.
The only condition was that her husband and any children of the marriage should take the name of Mildmay.  Did Sir Henry agonize over this decision?  Somehow I doubt it.  The St John – Mildmay marriage has been described at the possibly most important that any St John ever made with the exception of the 15th century one between Oliver St John and Margaret Beauchamp.  Four years after their wedding dear old great Uncle Carew died and Henry added Mildmay to the family name.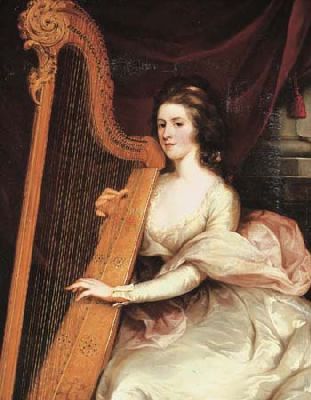 So how did Jane spend her days? Flipping through one of the 5,000 books in Dogmersfield famous library perhaps or sketching from the paintings on the walls, which included a Titian, a Rubens and two Rembrandts.  We know she was musically accomplished from the portrait of her playing the harp painted by Francis Riguard in 1785, the year before her marriage.  And we know she liked dancing because Jane Austen tells us in a letter to her sister Cassandra dated 1798 that Lady Jane St John Mildmay was among her party at the Basingstoke Assembly.
She was also noted for her philanthropic acts and rose to the national cause when called so to do.  When Admiral Collingwood made an appear for land owners to plant trees to provide wood for ship building following the Battle of Trafalgar, Jane had her stewards pepper The Commons at Hartley Wintney with acorns.  The fruits of which remain today.
Like most Georgian gentlewomen Jane was pretty much permanently pregnant.  In twenty two years of marriage Jane gave birth to eleven sons and three daughters.
You have to wonder what kind of life Jane had married to Sir Henry.  Samuel Egerton Brydges, MP for Maidstone, described Sir Henry as "a capricious, vain, ill tempered man, with some minor talents and insufferable pretensions."
Jane outlived Sir Henry who died in 1808 from liver disease.  In fact Jane outlived most of her children as well.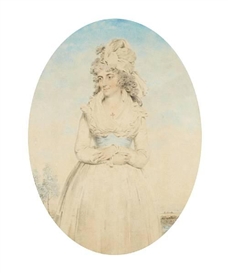 Her will, written in 1853 had a codicil added four years later appointing new executors as her two sons Sir Paulet and Sir Humphrey St John Mildmay had predeceased her.  After several pages of financial and legal dealings, Jane makes her personal bequests, always the most interesting aspects of a gentlewoman's will, of which these are just two examples.
'To my Grandson Henry I give all my jewellery trinkets rings snuff boxes etc that I have not otherwise disposed,' this would be Henry 5th Viscount Bolingbroke who married his housekeeper Mary Howard and produced a legal heir late in life.
'I give to my nieces Eliza & Marianne Ricketts the drawing of my dear Sister by Daconman the two Bracelets & pearl pin with her hair & twenty pounds to each of them as a trifling remembrance from me.'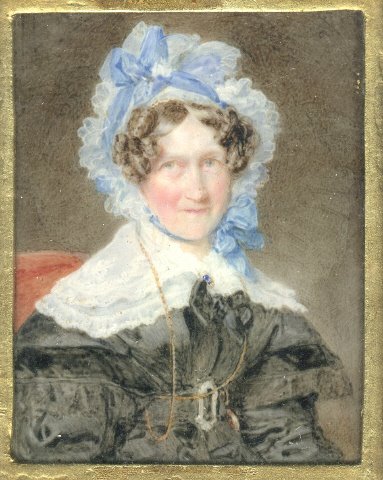 Lady Jane St John Mildmay died at her home in Eaton Square on May 6, 1857.  She was 93 years old.