Joan Neville and I go back a long way. In fact, my love of history, stately homes and a predisposition to being nosey could well be attributed to our early acquaintance.
My parents weren't big on history, but we did regularly go out on day trips and if there happened to be a stately home thereabouts, well sometimes we gave it a try! Not very often, I have to admit, but here is the photographic evidence that one day in the late 1950s we stormed the Castle Keep at Arundel.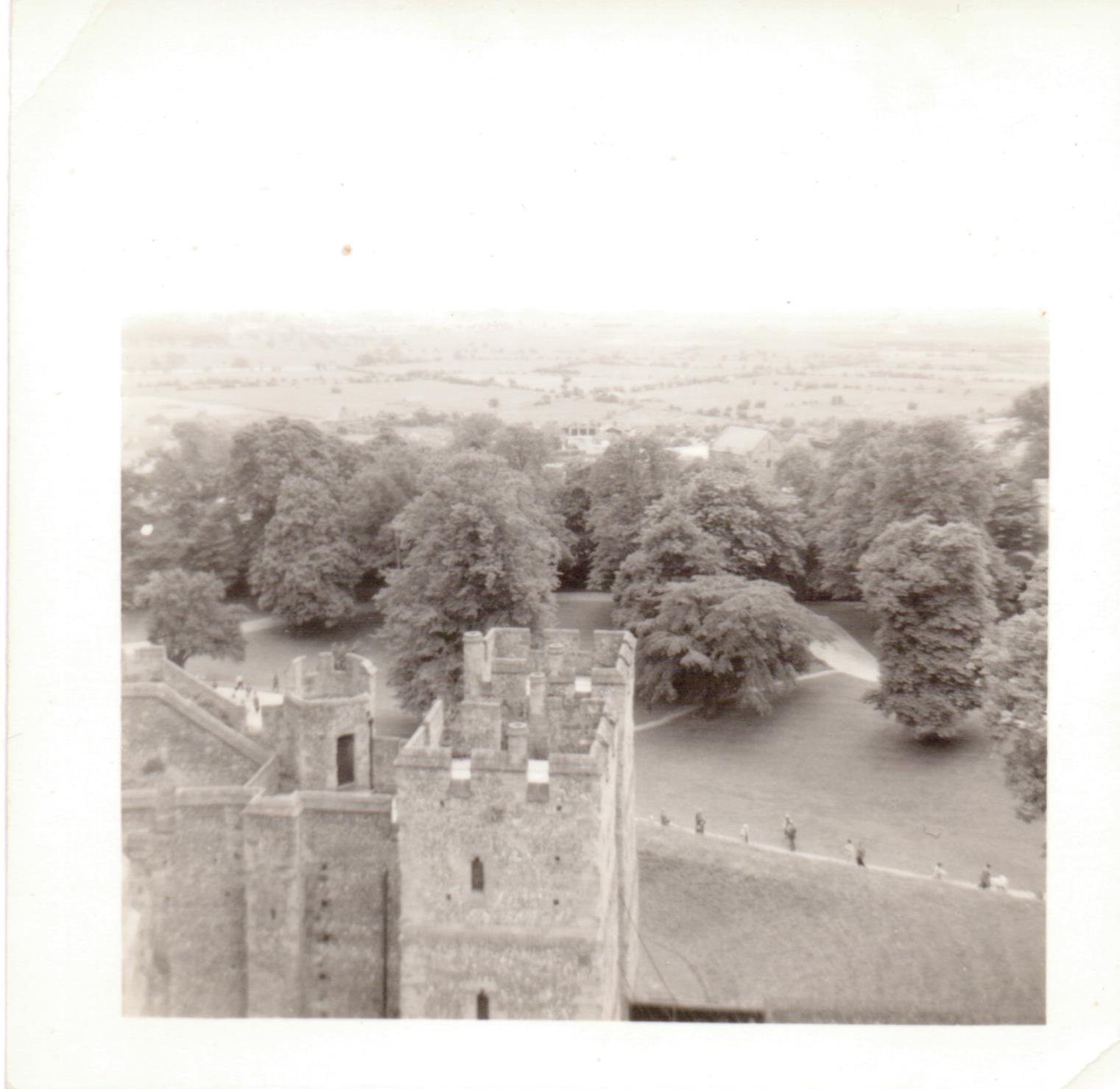 We were on a day out with mum and dad's friends known as 'the Robos.' I think their name was Robinson and I'm sure that aged 5ish I must have called them Uncle and Auntie something or other, but today I only remember them as 'the Robos.' How they fitted into our small family with an even smaller circle of friends, I don't know. They had two sons, the younger of whom was called Eric and there is another photo of us three children standing fully clothed in a paddling pool at Caister Holiday Camp, but I digress.
These 6cm square, grainy, black and white photographs were taken at Arundel Castle, the marital home of Joan, Countess of Arundel. Situated some four miles north of Littlehampton the 11th century castle was built by Roger de Montgomery, one of the Conqueror's principal counselors and most probably a cousin as well. His reward for keeping the home fires burning back in Normandy while William helped himself to ours was most of West Sussex and Shropshire and a handful of manors in Surrey, Hampshire, Wiltshire, Middlesex, Gloucestershire, Worcestershire, Cambridgeshire, Warwickshire and Staffordshire. Not bad going, eh!
When Joan Neville married William Fitzalan, Earl of Arundel in 1438 the castle was practically a new build, a mere 300 years old and owned by the Fitzalan family since the 13th century. Mary Fitzalan, their great great granddaughter would be the last member of the family to own the property. Mary became the 15 year old bride of Thomas Howard, 4th Duke of Norfolk, whom she married in the spring of 1555. A son, Phillip, was born two years later but sadly Mary died just 8 weeks after his birth, aged 17. It has been written that "all who knew her could not but love and esteem her much."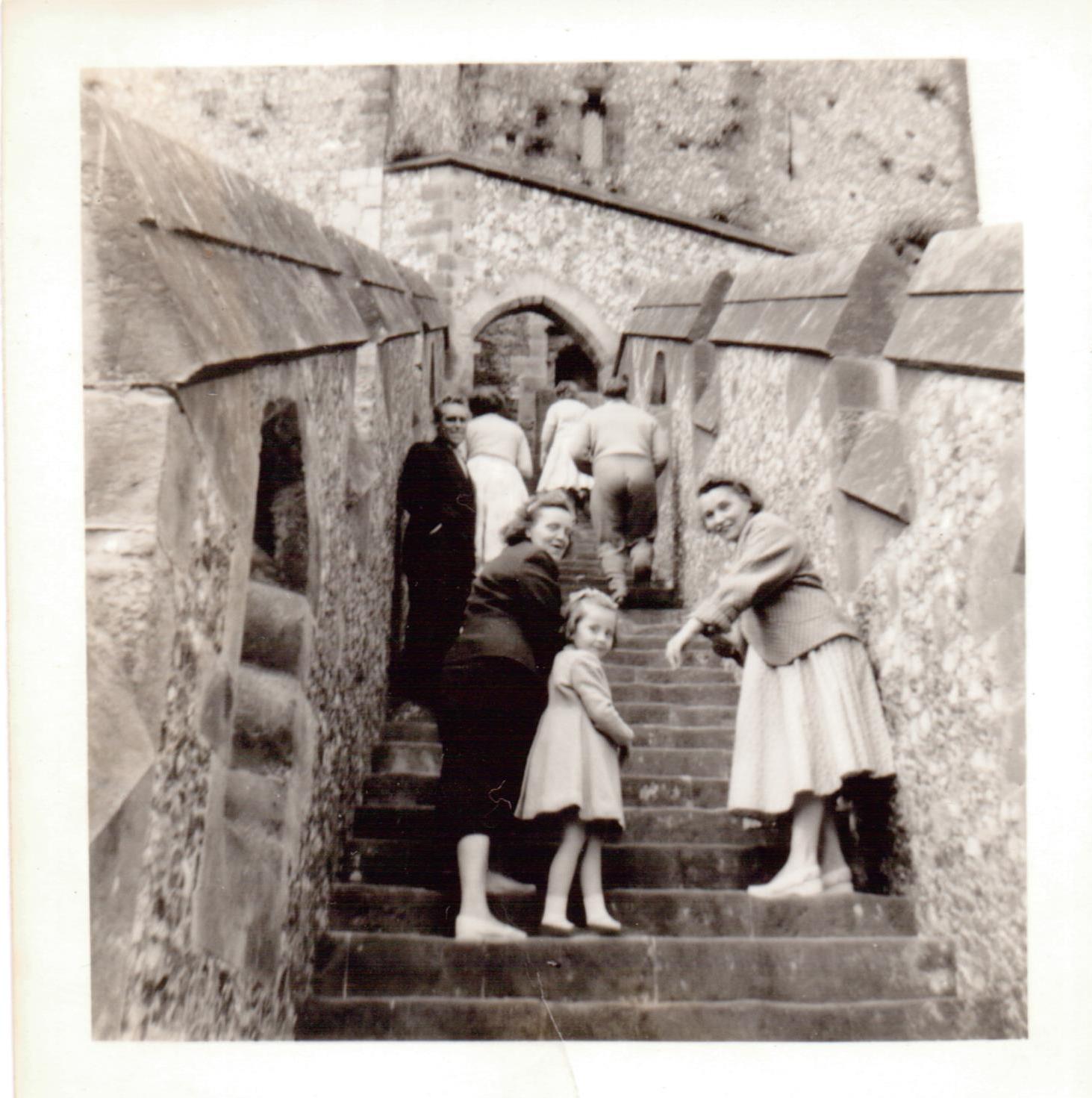 Jumping on 400 years and here I am pictured climbing the steps to the Castle Keep. Probably built by William d'Albini II towards the end of the 11th century, today the Keep is open to the elements although there is evidence of fireplaces on the inner walls and of an upper floor.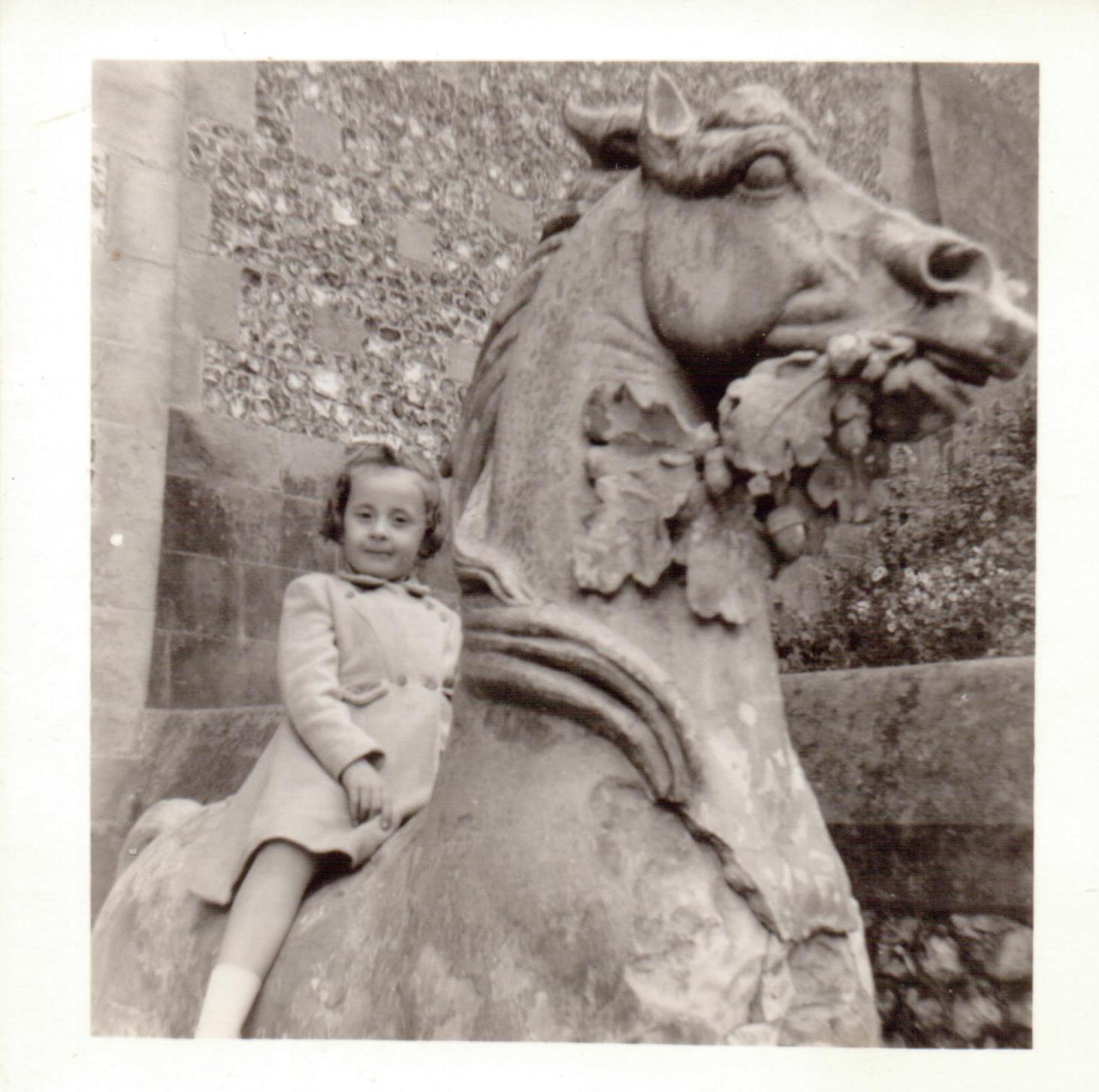 And here am I pictured astride the Coade stone horse that stands on duty on a bridge over the dry moat. This and the companion lion is representative of heraldic beasts on the Norfolk coat of arms. These two sculptures once stood on the Norfolk Bridge at Shoreham on Sea but when the bridge was demolished and rebuilt in 1922 they were brought up to the castle. I bet little children are not allowed to sit on them now – perhaps they weren't in the 50s either – I do look a little bit smug!
With both Medieval and Victorian architecture the Castle has provided the back drop for a whole raft of period films and TV programmes, including The Young Victoria (2009) and Henry VIII (2003).
Arundel Castle remains in the Norfolk family today and is open to the public from April-October. Visit the website for further details.