By 1762 the marriage between Frederick St John, 2nd Viscount Bolingbroke and his wife Diana, eldest daughter of Charles, 2nd Duke of Marlborough was on the rocks.
Frederick, who would famously divorce Diana in 1768 on the grounds of her adultery with Topham Beauclerk, had failed to moderate his own lewd lifestyle.
His casual encounters with prostitutes are frequently referred to in contemporary memoires, but one woman who earned more than just a passing reference was Nelly O'Brien.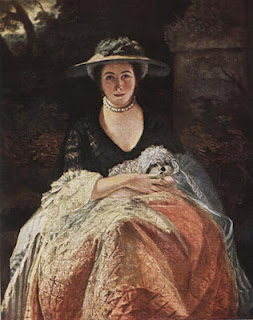 Nelly was born c1739 and little is known of her early life or her family background. Her career as an actress appears to have ended when she found a more lucrative one as a courtesan. Her entrance onto the 18th century society stage probably predates her visit to Joshua Reynolds in 1762 when Nelly was introduced to the popular portrait painter by Augustus Keppel, Admiral and 1st Viscount Keppel. Whether she was Keppel's mistress or Reynold's, who had a penchant for risqué actresses, is not known, but by 1763 she was most certainly Frederick St. John's.
Reynolds was to paint at least two portraits of Nelly, one while he was working on another of Lady Diana Bolingbroke, both paid for by Frederick.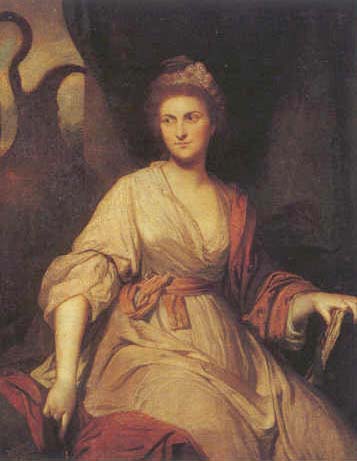 Horace Walpole, Whig politician, art historian and society gossip wrote: "Lord Bolingbroke said to him [Reynolds] 'You must give the eyes something of Nelly O'Brien, or it will not do.' As he has given Nelly something of his wife's, it was but fair to give her something of Nelly's; and my Lady will not throw away the present!"
Nelly was rumoured to have had a son by Frederick in 1764, but she soon moved on to another lover, Sackville Tufton, 8th Earl of Thanet, for whom she bore two sons – Alfred born in 1765 and Sackville in 1766.
The life of a top class courtesan was one of highs and lows, as Nelly's short life was to illustrate. Fame, fortune, access to the celebrities of the day and invites to all the best parties are in stark contrast to the end of a relationship when it came.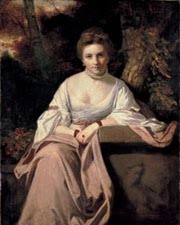 The Earl had set Nelly up in a house in Brook Street but ended the affair under pressure from his family to marry.
"Concerned that AT is detained in London due to illness; Mrs Curteis thinks that 'your mother did not die until about the period of Lord Tufton's marriage, which was more than 2 years later than you suppose – she was then great with child and the probable cause of death was grief and vexation at the marriage and desertion of the Earl of Thanet," the Duchess of Northumberland wrote in her diary. She also comments that 'Nelly O'Brien thought it hard that Lord Thanet should turn her out of his house before she was brought to Bed.' She subsequently miscarried and died in child bed according to the Duchess.
It would appear that Nelly's two young sons were raised by their father and possibly his new wife, or at the very least kept in close contact with their extended family.
When Sackville Tufton added a codicil to his will on April 5, 1794 shortly before his death, he bequeathed £50 'to each of my brothers and sisters issue of my father the late Earl of Thanet namely the now Earl of Thanet the hon Charles the hon John and the hon Henry Tufton, the right hon Lady Elizabeth Tufton and the right hon Lady Caroline Barham.'
Perhaps more poignantly Sackville adds 'and the rest and residue of my property I give and bequeath to the brothers and sisters of my late mother Eleanor O'Brien and to their issue if any there be equally to be divided among them share and share alike … I then give the interest and annual produce of the residue of my property to the Mother of my Mother Eleanor O'Brien for the term of her natural life.'
Nothing is known of the whereabouts of Nelly's grave, nor of the child she gave birth to in 1764, believed to have been Frederick's son and named Arthur.
However, the burial register for St Ann's, Blackfriars includes an entry made on December 29, 1767 – Eleanor O'Brien aged 29.
Portraits of Nelly O'Brien painted by Sir Joshua Reynolds. Top – The Hunterian Museum and Art Gallery, University of Glasgow, bottom – The Wallace Collection