When William Cobbett visited Lydiard Tregoze on his fact finding tour of 1826 he observed that the estate had once been a noble place.
"The land is some of the finest in the whole country; the trees show that the land is excellent,' he writes, 'but, all, except the church, is in a state of irrepair and apparent neglect, if not abandonment.'
By the beginning of the 19th century the St John money was pretty much gone.  There was no longer any disposable income to spend on Sevres porcelain or racehorses and there was certainly no money for grand portraits in oil painted by royal favourites.
Displayed in the Morning Room at Lydiard House are drawings of the daughters of Henry 4th Viscount Bolingbroke and his wife Maria St John Mildmay, but no portraits of the parents survive.  There are examples of Maria's needlework – an embroidered panel of a negro boy with two dogs – and two chair seats, an occasional chair in the drawing room and another on a Jacobean style oak chair in the library.
Following the marriage of Henry 4th Viscount Bolingbroke and Maria St John Mildmay at St George's, Hanover Square in 1812 the young couple didn't immediately make their home at Lydiard House.  George Richard, the father who had deserted Henry as an infant, was back in residence with his second wife Isabella Hompesch and a whole brood of children.  Henry and his family didn't move in until after George Richard's death in 1824.  He did, however, bring his two little daughters to be baptised at St Mary's – Maria Louisa in 1813 and Anne Jane Charlotte in 1815.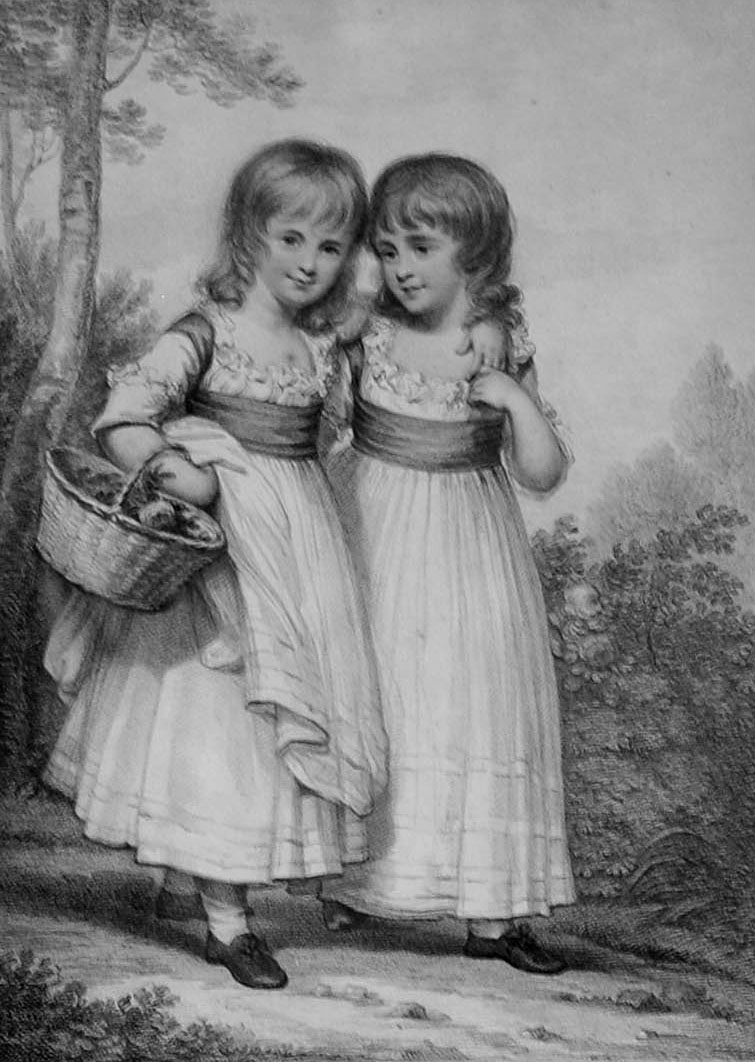 Eldest sister Maria married John Lauriston Kneller, a customs clerk, on March 11, 1839, and produced a family of ten children.  John's work apparently kept the family on the move.  The children's birthplaces are recorded as Ireland, France, Liverpool, Cheshire and London.  Baptismal records reveal that even when in London they were still on the move, living at addresses in Grove Terrace, Chiswick, Mornington Road and Clapton Common, Hackney.  Maria died on June 2, 1861.
Her sister Anne married Lawrence Robert Shawe, an officer in the 5th Dragoons.  He appears to have sold his commission at the time of his marriage as he fails to appear in the army lists of 1840.  The Shawe family also led a fairly nomadic lifestyle.  Three of their seven children were born in Devon, one in Cheltenham, one in Hereford and two in Scotland.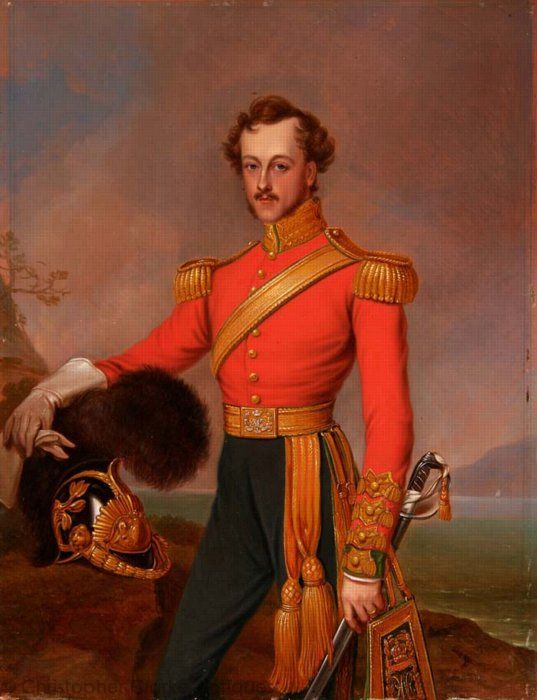 Anne, more frequently known as Charlotte, is the only one of the sisters to appear at Lydiard House on one of the Victorian census returns.  No longer able to rent out the dilapidated mansion house to paying tenants, Henry returns to live there himself.  Charlotte and her youngest daughter Montague are visiting at the time of the 1861 census.
Anne outlived her husband by nearly twenty years.  She died on April 24, 1881 at Stanfield House in Southsea, the home of her son. The administration of her Personal Estate valued at £315 19s 10d was granted to her son Lawrence Paulet  Shawe-Storey.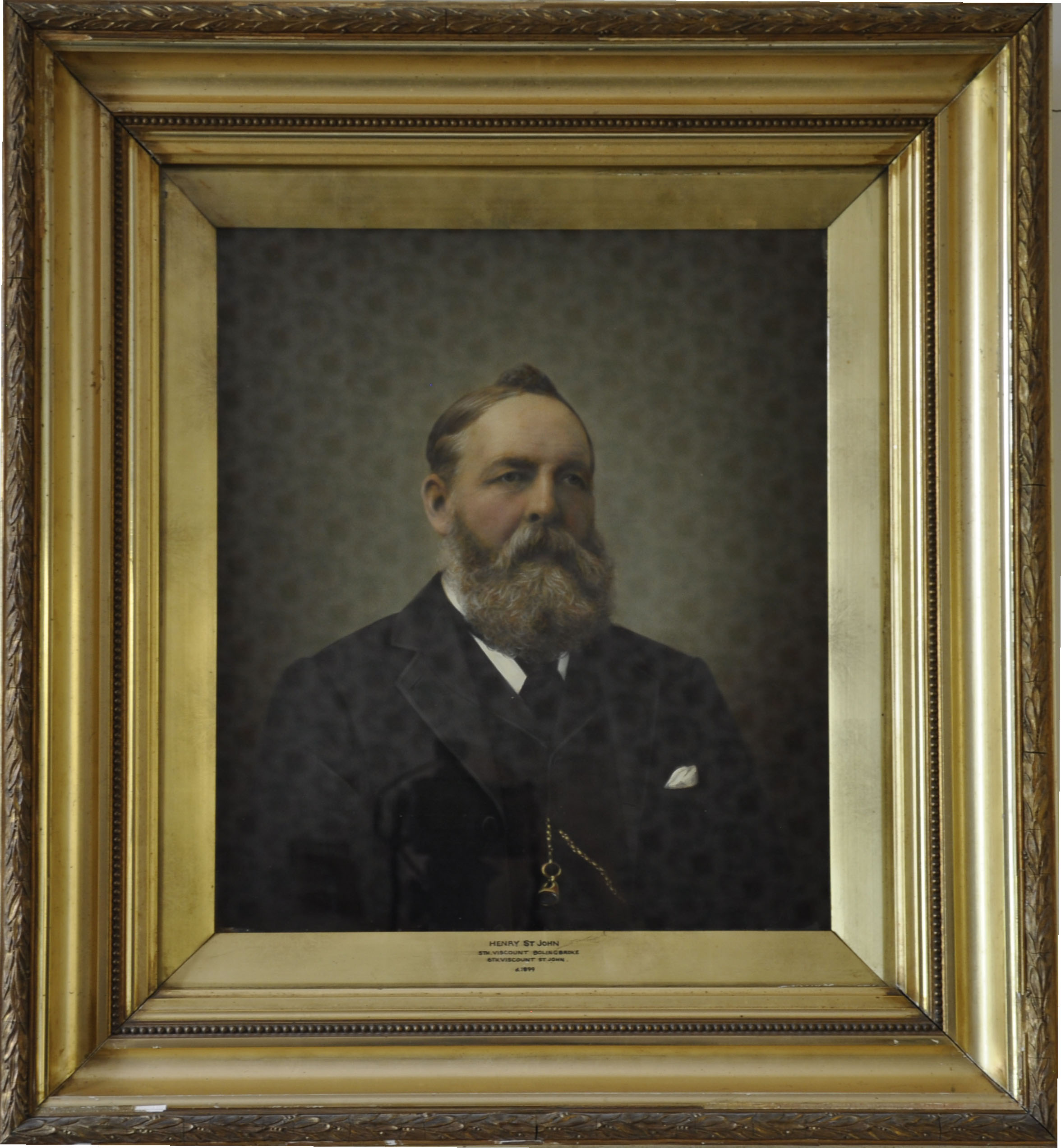 Alongside the modest portrait of a middle aged 5th Viscount Bolingbroke in the Morning Room at Lydiard House is a silhouette portrait of the four sisters and Henry executed in Brighton by Mr Gapp. Youngest brother Spencer is not included – perhaps he couldn't stand still for long enough.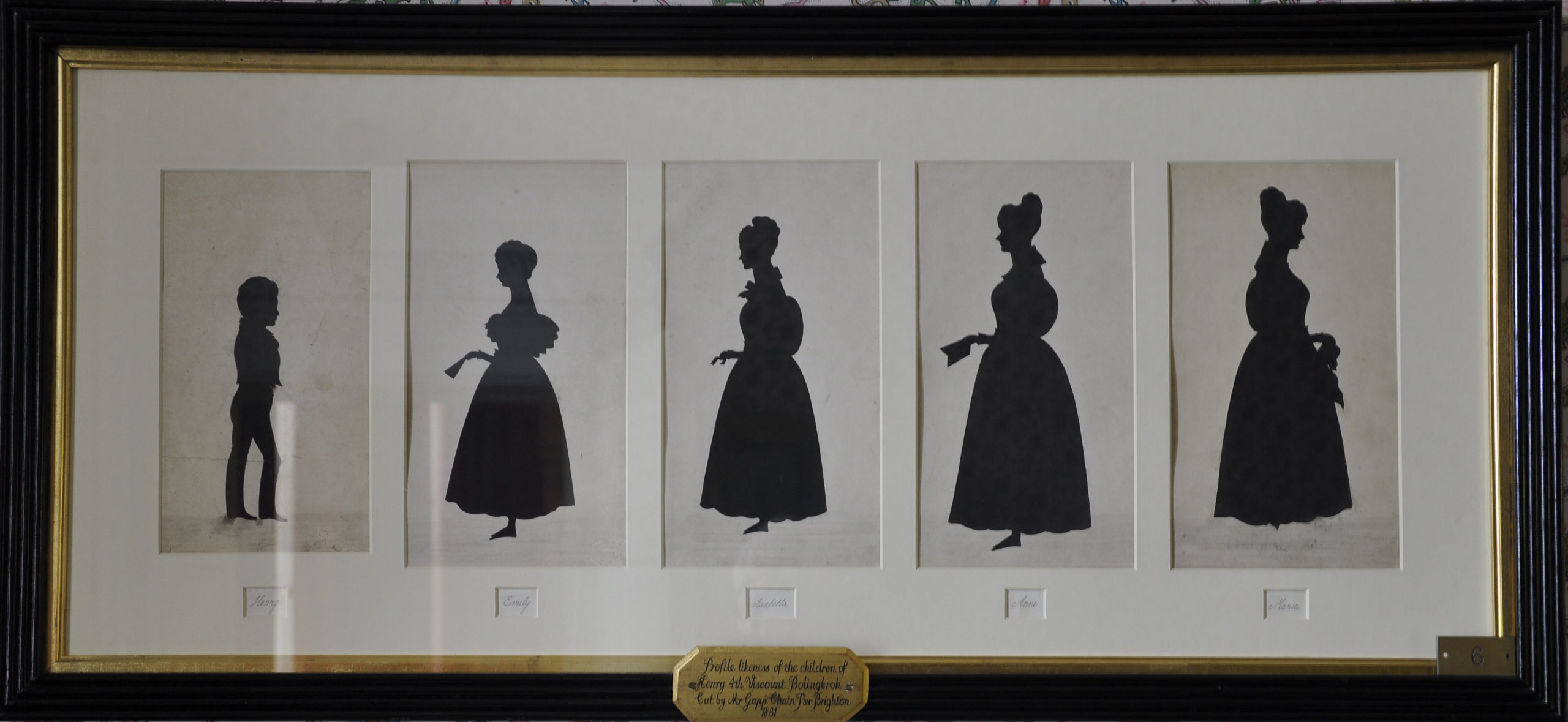 The tradition of silhouette portraiture where a likeness is cut from black paper and pasted on a light background, dates from the mid 18th century.  John Gapp was the first silhouette artist on The Chain Pier in Brighton working from 1823 when the pier opened until about 1835.
Youngest sister Emily Arabella St John was born on August 18, 1817. She married William Corbet Smith at St Mary's Church, St  Marylebone on June 24, 1840 and they had one son, Corbet. William died in 1847 and in 1852 Emily married Frederick Geldart Webbe Horlock. Emily died just three years later in 1855.
Now I don't know what it is about Frederick that I find objectionable.  Maybe it's his often quoted four names – slightly ostentatious.  Maybe it's his lack of profession or occupation and the ubiquitous title 'gentleman' that rings alarm bells.  In 1860 Frederick fathers a child by his dead wife's sister Isabella Letitia and then takes more than three years before he gets around to marrying her.
On the death of their father in 1851 the girls' only surviving brother Henry Mildmay inherited several titles, a crumbling mansion and the Lydiard Estate with a mortgage of £47,000.
Images of portraits in the Morning Room are courtesy of Lydiard House – visit the website on www.lydiardpark.org.uk