Returning to our screens this weekend, Downton Abbey portraits an establishment where gentry and servants co-exist in a symbiotic relationship.  This may well be true and sometimes the social divide can become distinctly blurred, as in the case of 'housekeeper' Bessie Howard who eventually became Lady Mary Bolingbroke, the wife of Henry 5th Viscount Bolingbroke of Lydiard Park, Wiltshire.
You can guarantee that very little went on above stairs that the servants didn't know about – and when the ugly spectre of divorce made an appearance the aggrieved spouse frequently turned to the domestics for the necessary evidence.
When the flaws in the Codrington marriage were exposed during the sensational mid 19th century divorce the co-respondent was named as Colonel David Anderson.  But if fellow miscreant Lieutenant Mildmay thought he had escaped detection, he was sadly mistaken.  In 1864 Henry Bolingbroke's first cousin Herbert Alexander St John Mildmay discovered that the discreet staff at Admiralty House, Malta were more than keen to speak up.
Herbert was born in Cadiz, Spain in 1836, the son of naval officer George William St John Mildmay and his wife Mary.  His grandfather was Henry Paulet St John who readily agreed to change his surname when he married the wealthy Jane Mildmay.
Herbert entered the navy in 1849 at the age of 13 as a midshipman.  He later joined the Rifle Brigade and served as a Lieutenant in the Crimea in 1854.  Decorated with the Crimea Medal with Sebastopol clasp and the Turkish Crimea Medal, he later served on the North West Frontier of India but before this he joined the 3rd Battalion of the Rifle Brigade in Malta where he engaged in some extra curricular activity.
In the court for divorce and matrimonial causes on July 29, 1864 Helen Codrington's apparently carnal character was exposed and vilified.  Her husband's counsel called forth several servants to give evidence who had worked in their former home in Malta where Vice Admiral Codington had served as Admiral Superintendent of the Dockyard in 1858-1863.
George Duff, a footman employed by Codrington in 1856-1861 dredged his memory for every vestige of evidence.  Confirming he knew Lieutenant Mildmay Duff went on to say "He frequently visited at the house, both when the Admiral was there and when he was absent.  He used to come home with Mrs Codrington very late at night and early in the morning.  They used to return home in the gondola from Valetta.  The Admiral had private gondolas.  A servant generally accompanied her, but not always,"  reported The Times.  He told how it was Mrs Codrington's habit to take Herbert into a sitting room known as 'the office' where they sat in the dark for sometimes an hour at a time.  Now what can two people possibly do sitting in the dark for up to an hour?
Duff continued: "At the end of 1860 or the beginning of 1861 I once went into a passage leading into the office.  It was past 12 at night.  I knew Mr Mildmay was with my mistress in the 'office.'  There was a sofa in it.  I was going to the Admiral's room, as I generally did the last thing at night.  I saw Mr Mildmay in the corner of the passage with Mrs. Codrington.  His arm was round her neck.  I started back and went away."
Returning tot he subject of the gondola Duff told the court – "I have come from Valetta with them more than once after they have been to operas and balls.   They came home in the gondola.  There is a small square of glass in the door of the cabin; but persons cannot see inside.  I have noticed the boat swaying on one side and the door shaking when they were in the cabin.  There was no room for me to sit, and I used to stand with my back to the door.  The boat hung on one side and the boatman had great trouble in rowing, and they sent me on the other side to make it balance.  There was no light in the cabin.  The light was in the bow of the boat.  It was about 20 minutes journey from Valetta to the Government House."
There was further talk of a rustling of dresses, whispering, a drawing of breath and exclamations.   "The next morning I picked up a piece of her head-dress and a piece of her bodice at the bottom of the landing where I had heard the noises," Duff concluded.
Mrs Sarah Nichols was first employed as cook at the Codrington's London home and travelled out with them to Malta.  She also told how Lieutenant Mildmay was a frequent visitor at Admiralty House and how he had joined Helen and her parents on a trip to Cormayeur.
"Mr Mildmay joined the party there and stayed in the same hotel with us.  Mr and Mrs Smith occupied two bedrooms and a sitting room.   Mrs Codrington slept in the next room to one of the bedrooms.  Mr Mildmay slept in quite another part of the hotel.  I slept in Mrs Codrington's bedroom.  She wrote letters in her bedroom before going to bed.  She asked me more than once to take letters to Mr Mildmay's bedroom.  I have taken letters to him four or five times.  I then objected to take them, and she told me to call Mary, and she would take them.  she was always very particular about the doors between the rooms being locked," said Sarah.
So was all this evidence enough to toll the death knell on the Codrington marriage? Actually no. In an attempt to discredit her husband, Helen had involved an old friend Emily Faithfull in the murky matter of her marriage.
Emily, a clergyman's daughter from Surrey, feminist campaigner and founder of the all female Victorian Press, lived with the Codrington family at Eccleston Square in the 1850s.  Helen claimed that whilst sharing a bed with her friend who was ill following an asthma attack, her husband had climbed in between them and attempted to force his attentions upon Emily.
Suddenly the whole shift of the divorce changed completely as Codrington fought back.  The emphasis on Helen's lovers Anderson and the feckless Lieutenant Mildmay evaporated and all attention was on poor plain Emily. She reluctantly appeared in the witness box where her evidence was rapidly disproved, sparking rumours of bribery by Codrington's legal team.
More damaging was the evidence given by Mrs Watson, a 'friend' of the Codrington couple who had been the confidante of both and who scoured her memory for tales of Helen's confession and general bad behaviour.
Codrington was awarded his divorce.  The case received worldwide attention but not everyone was convinced of the validity of the evidence.  And the result of the whole is that, upon an accumulation of inadequate and doubtful, though very damaging, pieces of evidence, Admiral Codrington, who is rather the reverse of a model husband, is divorced from a wife whose affection he never had the good luck or good feeling to conciliate or retain, reported the Sydney Morning Herald, Friday February 3, 1865. It is not to be denied that, taken together, the pieces of evidence against Mrs Codrington are not only inconsistent with themselves, or with guilt, but present a definite picture of a wilful, passionate, ill-trained, and guilty woman.  All we say is that, taken separately, the proofs are legally weak.
Proceedings dragged on for another three years.  In September 1866 Colonel Anderson was called upon to pay the petitioner's cost of £942 2s 4d and in January 1867 Codrington was ordered to pay his ex wife's legal costs of £1,118 10s 0d.
Helen lost her reputation and her children.  Mildmay, who was serving in India at the time of the divorce proceedings and refused to give evidence, seems to have got off lightly.  He retired from the Army in 1880 as Lieutenant-Colonel and later joined the Corps of Gentlemen at Arms. He was on duty at Queen Victoria's Golden and Diamond Jubilee celebrations and at the coronation of both King Edward VII and George V.  He died on October 21, 1922 at his London home, 31 Gloucester Street, aged 86 and was buried in Kensal Green Cemetery.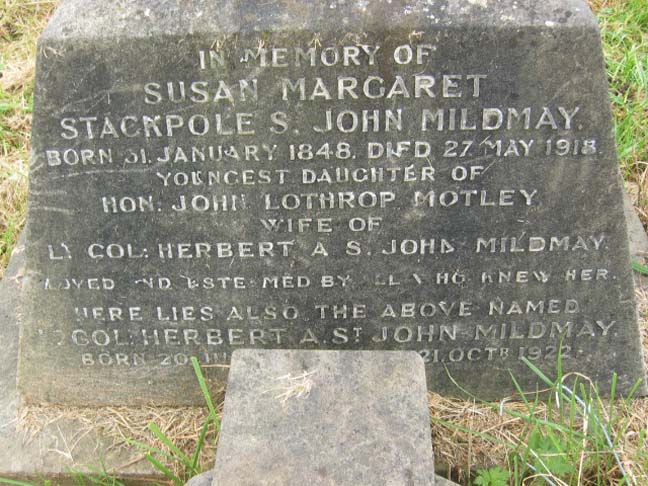 The Codrington divorce is the subject of best selling novel The Sealed Letter by Emma Donoghue published in 2008.