The State Rooms of the House and the Walled Garden are open April – December. For details of opening times, access and admission charges, visit the Swindon Borough Council website
Ten objects not to miss at Lydiard House
Lydiard House contains beautiful and fascinating objects, the majority of which are original to the House and belonged to the St.John family.
1. Susannah and the Elders Stone Relief
This large 16th century stone shows an episode from the biblical story of Susana and the Elders, from the Book of Daniel. It is likely to have formed part of the interior decorative scheme of the Lydiard's medieval manor house, perhaps relocated to the garden when the house was remodelled in the 1740's. Traces of pigment and gilding are evidence of its once being richly painted.
The stone was discovered by the caretaker whilst digging in the coach house garden in the 1940's.
2. Portrait of Barbara Villiers, Countess of Castlemaine by Sir Peter Lely

Said to be one of the most beautiful women of her day, Barbara was King Charles II's favourite mistress, once called "the curse of the nation" for her power and influence. The picture is part of a large collection of St. John family portraits, dating back to Elizabeth times, which hang in Lydiard House.
Barbara's portrait was purchased by Swindon Council with support of the Victoria and Albert Museum and the National Heritage Memorial Fund in 1982/3
3. State Bed

Lydiard's State Bed was refurbished with gorgeous embroidered silk draperies in 2006 thanks to a private donation from a member of the Friends of Lydiard Park. Kennet and Swindon Art Society designed and created the decorative panels inspired by the painted window in the nearby Dressing Room.
Throughout Lydiard House you can see examples of beautiful needlework by Art Society volunteers.
4. Mechanical Desk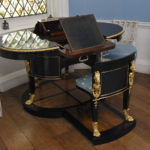 Made in the early 19th Century by the Italian cabinet maker Giovanni Socchi, this very rare mechanical desk is one of only five known to exist in the world and the only one in Britain; two were acquired by Napoleon Bonaparte for his sister Eliza. The ebony inlaid and gilded desk has an intricate sliding mechanism which allows it to fully close and lock.
The desk is part of a group of important furnishings bequeathed to Lydiard House by the Ernest Cook Trust in 1955 and restored to working order with their support in 2001.
5. Grandison Book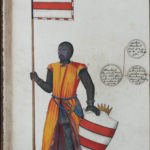 This manuscript volume was compiled in the early 17th Century by Sir Richard St. George Clarenceaux King of Arms, the man responsible for the complex genealogy on the St. John polyptych in St. Mary's Church. The book contains genealogical records of the family, vividly painted with heraldic symbols and illustrations.
The Grandison Book was presented to Lydiard House in 1983 in memory of former President of the Friends, Mr Frank Smallwood.
6. Lady Di Spencer Painted Panels
Exquisitely painted floral wall panels by the talented society artist Lady Diana Beauclerk (ne Spencer) grace the Dressing Room. Lady Di, as she was known, shares a common ancestry with the late Princess Diana of Wales. She was lady of the manor at Lydiard until divorced by her husband, Frederick 2nd Vsct. Bolingbroke, in 1768.
Lady Diana's panels originally hung in her home at Little Marble Hill in Twickenham and later became a St. John family heirloom and part of the estate of 6th Vsct. Bolingbroke.
7. Painted Window by Abraham Van Linge, early 17th Century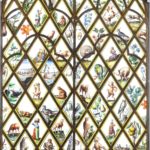 Lydiard's curious painted window is a remnant of the older house that stood here before 1740. It contains over one hundred quarries (pieces of glass). Each is different: mermaids, centaurs and satyrs; humans hunting and sailing, exotic fruit, wild flowers and animals – even a roly-poly elephant.
Abraham Van Linge was the leading glass painter of his day. He also painted the beautiful East window in St. Mary's Lydiard Tregoze and at St. Mary's Battersea.
8. Bust of Henry 1st Vsct. Bolingbroke by Michael Rysbrack

Henry St. John, 1st Viscount Bolingbroke was one of the most prominent and influential men of his generation. Born at Lydiard House he rose to fame as Queen Ann's Minister of War and Secretary of State and helped end the War of Spanish Succession by making peace with the French. After the Queen's death in 1743, his enemies threatened to impeach him as a traitor and he was forced to flee to France.
The bust, by the leading Flemish sculptor, Michael Rysbrack, escaped sale in 1943. It was possibly mistaken as one of a series of plaster busts which are integral to decorative schemes in the Library and Hall.
9. 'Bolingbroke at Lydiard Tregoze' by John Piper

St. Mary's famous 'Golden Cavalier' monument (incorrectly titled Bolingbroke by Piper) is immediately recognisable in this striking painting by John Piper, one of England's best known 20th Century artists. Piper's painting captures that startling contrast between the gilded captain and the shadowy chancel which he inhabits. Captain Edward St.John died from wounds received fighting for King Charles in the English Civil War. His grieving father erected the monument in his memory.
The Piper painting was purchased by Swindon Council with support of the Art Fund in 2002
10. Sundial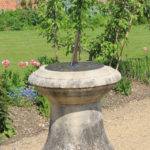 This sophisticated bronze sundial was made by John Sisson of London, designer of the finest mathematical instruments in the 18th Century. It is engraved with the arms of Henry 1st Viscount St.John (d1742) and his 2nd wife Angelica Magdelina Pelissary, whose portraits can be seen in the State Bedroom.
The sundial was restored in 2004 with support of Upper Thames Art Society and a replica made for the Walled Garden.
For details of opening times, access and admission charges to Lydiard House and Walled Garden, visit the Swindon Borough Council website.